Nintendo Switch updates: Nintendo will release new details about upcoming console Jan. 12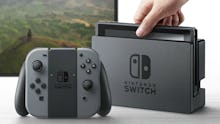 We don't really know much about the Nintendo Switch, do we? Certainly not enough to decide whether we ought to be thinking about buying one. In a few months, however, we'll get some answers.
At a presentation for financial analysts today, Nintendo announced, well, another announcement: the Nintendo Switch Presentation 2017, which will be held on Jan. 12, 2017, and livestreamed for the world audience. 
At the Nintendo Switch Presentation 2017, the company will announce the release date and price for the Nintendo Switch and promote some of the games currently in development.
Our most important questions about the Nintendo Switch
So what the heck can this new console do?
What we know right now about the Nintendo Switch is limited to mostly nothing. Launch date and price are major steps in the right direction.
Getting a look at the games is just as important. Skyrim featured heavily in the Nintendo Switch reveal announcement trailer, but developer Bethesda Softworks has since hedged on whether or not Skyrim will actually appear on the system. Hopefully the games we hear about on Jan. 12 will be games that are actually confirmed for the Nintendo Switch.
You can see and play the Nintendo Switch for yourself very soon
Nintendo Co., LTD., president Tatsumi Kimishima also announced today that hands-on events for the Nintendo Switch will be held for the public, along with meetings for the press, partners and regular consumers. Dates for these events will be revealed later, but Kimishima's announcement specified they would come after the Nintendo Switch Presentation 2017.
We didn't get the answers to any of our questions about the Nintendo Switch today, like details about backwards compatibility and the unique Joy-Con controllers, but we can at least mark Jan. 12, 2017, on our calendars and look forward to getting some answers then.