10 Halloween makeup ideas for men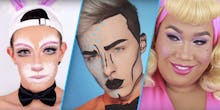 Let us paint you a picture: It's the weekend before Halloween. You are broke. You still have no idea what to dress up as. You identify as a man, maybe, or present as such. 
What's a person to do? Use makeup to completely transform yourself this Halloween, that's what. After all, it's cheaper than all those $100 costumes. And look how these ladies are slaying it already. 
A note: Although most of these looks below were created and modeled on people who identify as men, that doesn't mean that someone who isn't a man can't do these too. 
Makeup isn't, after all, for one gender in particular.  
1. Playboy bunny 
Follow in the mighty footsteps of Regina George and go as a Playboy bunny this Halloween. Though, rather than go basic like Regina and just wear those flimsy bunny ears with that satin corset, why not use the powers of makeup to make yourself look like an actual bunny? Oh, but don't forget that signature bow tie. Otherwise, you'd be more Peter Rabbit than, y'know, Carmen Electra. 
2. Scary Spice 
Be honest: When have you ever not thought (even just for a few minutes) of being Scary Spice for Halloween? The dark lip and intense '90s eyeshadow alone are worth it.
3. Werewolf 
Want to use makeup to look more intimidating than, say, pretty? Well then, here's a rather intense werewolf makeup tutorial for you, which involves a lot of black brushstrokes and, if you're super committed, colored contacts. 
4. A very scary burn face
Special effects makeup can be super challenging, but this tutorial makes it look relatively easy, mostly because it's all about gluing tissues to your face (for texture) and scrubbing as much red and black powder into your face as possible. 
5. Skeleton 
This look is a mix between Jack Skeleton and Cirque du Soleil, which makes it totally worth a few minutes of your time. 
6. Barbie 
These days, Barbie is all about being as inclusive as possible, with dolls now coming in a variety of body shapes and skin shades. And of course on Halloween, or any other day, being a Barbie is for people who identify as women and men and everyone in between. 
7. A unicorn 
Many celebrities have attempted to be unicorns on Halloween, whether it be Taylor Swift or Anne Hathaway, but none have truly encapsulated the mythical animal with the power of makeup. But now, you can! 
A bonus: This look makes you appear as though you're literally crying glitter, which is #goals. 
8. Sexy vampire 
As Mic has reported before, the pressure to be sexy on Halloween shouldn't just be on women, so here's an example of how good it can look when men try to be sexy too. 
We're digging the bloodshot eyes. Very Robert Pattinson. 
9. The Joker 
You knew this was coming, didn't you? For this look, all you have to do is smear white face paint across your face, darken your eyes, smear on a red lip and, if you're super committed to wearing this predictable costume, spray your hair green. 
10. Pop art 
Women doing their makeup to look like they're straight out of a Roy Lichtenstein is nothing new, but men getting in on this pop art game is. So here's an example of a man serving his best Lichtenstein, complete with sculpted cheekbones and a dotted face. 
So go forth, men who want to wear makeup on Halloween. Paint on your best bunny rabbit or werewolf or, if you're truly desperate, Joker. We can't wait to see the results.