'Overwatch' update: Patch 1.5 promises much-needed improvements to abuse reporting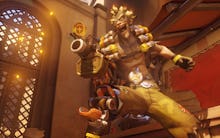 Blizzard is working on making improvements to how players can report abuse in its multiplayer shooter Overwatch — not just to make it easier to flag trolls, but also to prevent players from wrongly reporting others for picking an unpopular character, like Symmetra. Here's what new in patch 1.5.
Changes to reporting tools on the Overwatch public test realm
In the current build of Overwatch on the PTR, where Blizzard tests changes to the game before rolling them out officially, some players have noted that there are already some changes to how the reporting process works.
According to this post on Reddit, instead of the previous option to report players under the general "harassment" category, players on the PTR can now choose from the subcategories of "abusive chat" or "griefing/inactivity."
Additionally, Blizzard is working on preventing players from reporting someone inappropriately, like for picking a character they perceive is a bad choice.
"I'm sick of people reporting me for playing unpopular [heroes like Symmetra] in [Quick Play] and Competitive and having those reports result in my account being silenced," one player wrote in a post on Blizzard's forums.
"We're actively working on this right now," Overwatch director Jeff Kaplan responded. "It's going to take some time for all of the changes we want to do to get implemented. But starting in patch 1.5, you'll start to see the early beginnings of change to the reporting system. More changes will come in subsequent patches."
Console players want better reporting tools
Though Blizzard didn't mention it explicitly, the reporting tools for Overwatch players on console need a lot of work, too, so hopefully improvements there are also on the way.
Currently, there is no way to report a player in-game in the console versions of Overwatch except to mute their microphone. You can report an account on Xbox One for abusive behavior, but on PS4, you can only block them. If you select the option to report a PSN account for abusive in-game behavior, you'll be greeted with this screen telling you to use the game's reporting tools — which, oops, Overwatch doesn't have.
A quick search on the Overwatch subreddit will show you that many console players would like better reporting tools:
• Add report button for console
They're not alone. This morning, I tried to report a player in the PS4 version of Overwatch who repeatedly used the N-word and referred to the Brazilian character Lúcio with the racial slur "monkey." Because it was on PS4, I had no way to report this jerk for his behavior.