Texas polls: Here's how Hillary Clinton could upend Donald Trump in the red state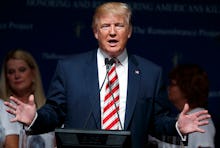 Two new polls out of Texas show Republican candidate Donald Trump holding a narrow lead in the Lone Star State.
A University of Texas/Texas Tribune poll conducted from Oct. 14 - Oct. 23 has Trump leading Democratic candidate Hillary Clinton by just 3 points.
"The lack of enthusiasm amongst Republicans is remarkable," Joshua Blank, manager of polling and research at the Texas Politics Project, told the Texas Tribune.
That lack of enthusiasm for the Republican candidate could be Clinton's secret weapon in the battle to clinch Texas. She also has strong support among black voters in Texas and is holding her own with the state's large Hispanic population, the poll found. Pair that with Trump-induced voter apathy, and it's possible — if mostly improbable — that the Lone Star State swings blue. 
A Crosswind/Austin American-Statesman Texas Pulse poll conducted from Oct. 22-24 has Trump up by 7 points over Clinton.
"Texas is not yet a toss-up state, but Hillary is giving Trump a run for his money," Crosswind CEO Thomas Graham, told the Austin American-Statesman. FiveThirtyEight gives her just a 14.7% chance of winning the state. 
In other words, it's unlikely that Clinton will win Texas and its 38 electoral college votes.  But Trump could win the state by the lowest margin in recent history.
In 2012, Republican nominee Mitt Romney won Texas by almost 16 points and in 2008 GOP nominee John McCain won by nearly 12 points, according to Ballotpedia.
Trump's lead in this red-leaning state has toiled in the single digits for many weeks now. The last poll showing him with a double-digit lead was in August when a KTVT/CBS11 had him up by 11 points.
A RealClearPolitics average of state polls gives Trump a 4.7-point lead over Clinton.
Early voting in Texas began on Monday and turnout has been high, according to the Texas Tribune. Trump, who has regularly said the election is "rigged," has already expressed concern about voter fraud in Texas.
Mic has ongoing presidential coverage. Please follow our main election hub as well as coverage of Donald Trump and Hillary Clinton.
Oct. 27, 2016, 10:45 a.m.: This article has been updated.