Two Yazidi women and former ISIS sex slaves just won the EU human rights prize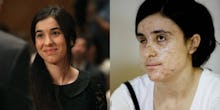 Two Yazidi women and former ISIS sex slaves were awarded the European Parliament's prestigious Sakharov Prize for Freedom of Thought on Thursday. The honor is given to those "who have made an exceptional contribution to the fight for human rights across the globe."
Nadia Murad Basee Taha, 23, and Lamiya Aji Bashar, 18, were both enslaved by ISIS when their Iraqi village was attacked by militants on Aug. 3, 2014. ISIS militants rounded up groups of Yazidi men and murdered them, before enslaving scores of young women. 
The families of Murad and Aji Bashar were either killed or enslaved, but the two women escaped, and have since become human rights activists, fighting human trafficking, Yazidi genocide and ISIS enslavement. 
Past recipients of the Sakharov Prize include young Pakistani education activist Malala Yousafzai and Saudi blogger Raif Badawi.
The respective journeys of each woman were plauged with trauma and peril. Three months after being captured, Murad, who was tortured and raped, successfully fled; with the help of a another family, she was smuggled to freedom, ultimately landing in Germany.
Murad was also the recipient of the Václav Havel Human Rights Prize, awarded to her by the European Parliamentary Assembly this month for "outstanding civil society action in defense of human rights."
Aji Bashar's road to freedom had even more challenges. She unsuccessfully tried to escape a number of times and was subsequently a sex slave for nearly 18 months, sold to different militants on five different occasions. She was also forced to make suicide vests and bombs.
During her final and successful escape, while being chased by ISIS militants, she stumbled on a landmine, which killed the two people she was with, and left her irreparably scarred and nearly blind. Aji Bashar, too, ended up in Germany, where she received medical aid and found her remaining siblings, who had survived the massacre. 
Part of her activism is devoted to helping women and children who were former slaves of ISIS. 
Yazidis are Kurdish, a religious minority that has been especially targeted by Islamic State jihadists. In March, the United States government acknowledged that ISIS has been committing genocide against various groups, including the Yazidis. Furthermore, the Islamic State has systematically used rape and sexual slavery on thousands of women as a weapon of war.
"I cannot put into words the courage and the dignity they represent," President of the European Parliament Martin Schulz said of the two women in a statement on Thursday.
"Today, Nadia Murad and Lamiya Aji Bashar have become the voice for the women victims of the Islamic State's campaign of sexual violence and enslavement," he added. "They have become the public advocates for the Yazidi community in Iraq and they point the finger at the genocidal campaign that the terrorist organization Islamic State is conducting against this minority."