Ashley Graham issues a call to high-end designers: Extend your sizes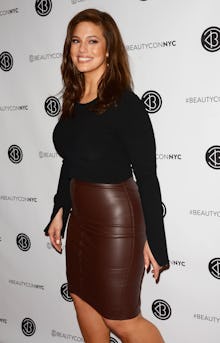 Model Ashley Graham has never been shy about calling attention to the plus-size industry and plus-size woman's most pressing issues. The past few months alone, she has spoken out about the importance of plus-size women on the runway, and defended herself from body-shamers on Instagram. She's defended the plus-size label, and helped normalize cellulite. 
Now, in a new interview with Racked, she's calling on high-end designers to consider the plus-size woman, and design clothes in sizes 12 and beyond. Although she admits there's been progress, with designers like Christian Siriano and Prabal Gurung regularly dressing women who aren't a size 2 or even a size 6 on the red carpet and beyond, she wants more designers to step up to the plate. 
"Slowly but surely there's really big designers that are coming out of the woodwork that are making clothes for curvy girls, Christian Siriano, Prabal [Gurung]," Graham told Racked. "There's a few that are finally pairing up with the right people, but there are so many more that need to do what Michael Kors has done, Donna Karan, Calvin Klein, and really just make those extended sizes. But what I also really want to see — those designers included — is [for designers to] make their high-end lines go up in extended sizes, because I want to buy it!"
In short: The plus-size industry is worth more than $20 billion, so these designers are missing out by not thinking about plus-size women when they design their clothes. At this point, it's foolish to discount all women above a size 12.
Still though, many women in Hollywood are having a hard time finding designers to dress them. SNL cast member Leslie Jones famously had to issue a call to designers on her Twitter this summer to find someone to design a dress for her Ghostbusters premiere. (Christian Siriano famously answered that call.) Melissa McCarthy too has spoken out about having to design her own dresses, rather than a designer taking over. So if women who are famous and privileged are having a hard time getting high-end designers to create clothing in their sizes, the same can obviously be said for women who aren't in that position as well. 
And according to Graham, it's not just the industry that's holding plus-size women back, but society as a whole. As she notes, when she entered the fashion industry at just 12, it wasn't just the industry insiders who were shaming her. 
"When I came into the industry at 12 years old, I didn't understand what perfection was, I didn't understand what plus size was, I didn't understand what the modeling industry was even about. And I never really got criticism until I moved to New York. And it wasn't even just people in the fashion industry that gave me flack, it was more — it was society," Graham said. "It was people kind of looking at me and saying, 'You're a model?' In reality, what we need to be doing is not just changing the fashion industry, but we need to be changing the mentality at home for what beauty and perfection really is." 
With Graham leading the way, there's no doubt that change has the ability to come sooner, rather than later. 
You can watch Graham's entire interview below.