New 'Pokémon Go' update 0.43.4/1.13.4 fixes bugs and paves the way for Halloween fun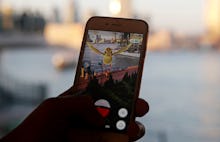 The Pokémon Go Halloween event is off to a good start. Developer Niantic released a new update for Pokémon Go on Wednesday that should address any performance issues you've been having while trying to take advantage of the most recent nest migration, catch all the ghost-type Pokemon and cash in on those fantastic new candy drop rates.
Today's update, 0.43.4 for Android and 1.13.4 for iOS, didn't even require its own page of patch notes. "Trainers, Pokémon Go is being updated to version 0.43.4 for Android and 1.13.4 for iOS with minor bug fixes," the update info reads.
It's not a large Pokémon Go patch, but bug fixes are important. Small, incremental patches — even those that just change the color of Pokemon eggs — are a healthy sign that Niantic is staying on top of Pokémon Go. 
After all, the game has to be as stable as possible before we get anything new — like the rumored daily quests and daily rewards system.