Donald Trump vs Hillary Clinton: Election polls maintain Clinton lead over Trump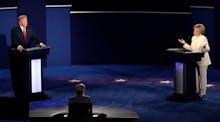 For all the talk of a tightening presidential race, Hillary Clinton has maintained a large lead over Donald Trump in the latest presidential polls. 
According to the RealClearPolitics average of polls, Clinton holds a national lead of 5.4 percentage points. Clinton has now held a 5-point lead or larger for more than two weeks. At this point in 2012, Barack Obama and Mitt Romney were effectively tied. 
Trump supporters can draw some hope from the latest swings on the electoral map. Some polls have shown a tightening race in states like Florida, North Carolina and Pennsylvania. But a new New York Times survey out Thursday gave Clinton a 7-point lead in Pennsylvania and gave Clinton the same margin earlier in the week in North Carolina. Trump likely needs to take one of those states to win the election. 
Overall, a bevy of polls have shown Clinton continues to hold her lead in critical swing states. And nationally, the vast majority of surveys continue to give Clinton the lead, with some polls putting her advantage in the double digits. 
With less than two weeks until the election, it is unlikely Trump can turn the polls around. As the number of undecided voters drops and support for third party candidates declines, Trump and Clinton have both seen increases in their vote share.