Donald Trump polls: Trump trails Clinton by 5.7 percentage points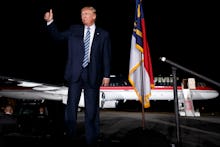 Republican candidate Donald Trump is making a last-minute push in key battleground states on Thursday as several national polls show his opponent with a steady lead.
Trump trails Democratic candidate Hillary Clinton by 5.7 points, according to a RealClearPolitics average of national polls.
A new ABC News/Washington Post poll has Clinton leading Trump by 6 points. An Investor's Business Daily/TechnoMetrica Market Intelligence poll has Clinton up by 2 points. And a Fox News poll released on Wednesday gives Clinton a 3-point lead in a two-way race against Trump.
Clinton has been leading most national polls in recent weeks with the election just 12 days away.
Trump's campaign schedule is a reflection of his concern over the battleground states that will likely define the results of this election. On Thursday, he will make three campaign stops in Ohio before heading to New Hampshire, Maine and Iowa on Friday.
Trump has stepped up his attacks on Clinton, particularly over recently leaked emails by Wikileaks over the Clinton Foundation.
He is leading in the polls in several states, but even if he wins in all those states it still won't get him to the 270 electoral college votes he needs to get to the White House.
FiveThirtyEight gives Clinton an 84.4% chance of winning the election on Nov. 8.
Mic has ongoing presidential coverage. Please follow our main election hub as well as coverage of Donald Trump and Hillary Clinton.
Oct. 27, 2016, 12:09 p.m.: This article has been updated