This deodorant ad highlights one of the intimate struggles of gender-fluid individuals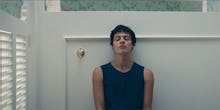 Secret deodorant's #StressTest campaign is all about showing women in highly stressful situations including a woman amping herself up to ask for a raise, a woman about to propose and a woman going through the torment that is waiting for a reply after a risky text message.
In a new ad which debuted on Wednesday, titled "Ladies Room," Secret's #StressTest shows an androgynous woman named Dana preparing herself to go from the safety of a bathroom stall to the sinks, where three women are gathered and gossiping.
"Dana finds the courage to show there's no wrong way to be a woman," the ad says, before promoting Secret's clinical strength deodorant.
According to the woman who played Dana, gender-fluid artist Karis Wilde, who says that she landed the ad after a simple audition, the goal of this video was to show one of the more personal, intense situations people like her go through.
"The vision was always to show the intimate struggles we face in life," Wilde said in an interview with Mic. "They wanted to show it as honestly and raw as possible."
So far, the ad is already proving to be effective with many of Wilde's Instagram followers, who related to the bathroom scene. "I felt you in that ad, sister. I definitely share in that moment of anxiety and uncertainty," one commenter wrote to Wilde. Another: "Made me cry. In the moment, the anguish, despair, the stress, so true for me."
For Wilde, it's important for people to see this ad in order to see a more human aspect side of gender fluid and androgynous individuals.
"I hope people are left thinking about their actions and to have more compassion," Wilde said. "It's so hard navigating through life especially when you don't fit a mold. I think it's important for people to see this to put a face and emotion to a person that's been affected by this."
You can watch the entire Secret ad below.