Vine is shutting down — here's what that means for its users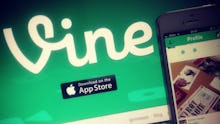 Twitter's looping video app and entertainment site Vine will shut down in the coming months after Twitter's sustained failures to turn Vine into a profitable part of their business.
Though the company insists that all of the work that's already been created is safe for now, Twitter will begin to sunset the app, and will cease supporting and updating the app, as well as allowing uploads, "in the coming months."
"You'll be able to access and download your Vines," the Vine team wrote in a statement Thursday morning. "We'll be keeping the website online because we think it's important to still be able to watch all the incredible Vines that have been made. You will be notified before we make any changes to the app or website."
Twitter also announced on Thursday that they'd be laying off 300 employees — 9% of it's entire workforce worldwide.
Twitter is undergoing some of the strongest business pains it's faced since the company went public in 2013. It's never been a more relevant platform; throughout the election season, both Twitter and Vine have been essential spaces for commentary and analysis, for presidential candidates to sound off about their campaigns and for the emergence of new political movements like the alt-right.
But Twitter's relevance has never neatly translated into a successful business. The company has gone through multiple CEOs since it started in 2006 and has never found a way to compete with Facebook and Google for advertising budgets.
"Thank you," the statement from Vine says. "To all the creators out there? — ?thank you for taking a chance on this app back in the day. To the many team members over the years who made this what it was? — ?thank you for your contributions. And of course, thank you to all of those who came to watch and laugh every day."
Here is the full statement from Twitter:
Important News about Vine