A Donald Trump endorsement just ruined Yuengling forever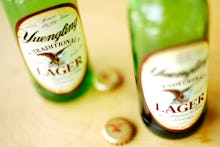 This Pennsylvania beer brand's Trump support is going to cost them. 
On Monday, Oct. 24, Eric Trump, son of presidential candidate Donald Trump (who reportedly doesn't drink), visited Yuengling Brewery in Schuylkill County, Pennsylvania. His tour was led by Richard "Dick" Yuengling Jr., the 73-year-old fifth-generation owner of America's oldest beer company. 
The 45-minute visit was just part of Eric Trump's tour through central and northeastern Pennsylvania, a key voting region that can swing the state in his dad's favor. That short visit, though, may have sealed Yuengling's fate. 
"Our guys are behind your father," Yuengling, who has an estimated net worth of $1.86 billon, told Trump's son. "We need him in there." The two both stand by the belief that Trump will be good for factory workers and local communities. Local paper the Reading Eagle reported that Yuengling said, "Maybe your dad will build a hotel in Pottsville, or serve Yuengling in his hotels."
So far, that increase in Yuengling sales isn't looking too good.
After Eric Trump's visit to Yuengling on Monday, former-Yuengling drinkers have publicly denounced the beer brand. 
Most notably, state representative Brian Sims (D), the first openly gay member of the Pennsylvania General Assembly, has voiced his outrage over the endorsement. On Wednesday he denounced Yuengling on Facebook:
GOOD BYE, Yuengling Brewery: I'm not normally one to call for boycotts but I absolutely believe that how we spend our dollars is a reflection of our votes and our values! Supporting Yuengling Brewery, that uses my dollars to bolster a man, and an agenda, that wants to punish me for being a member of the LGBT community and punish the black and brown members of my community for not being white, is something I'm too smart and too grown up to do. 
Hours later, Sims wrote another post tagging local businesses in Philadelphia's Gayborhood, an area in Washington Square West with a high concentration of LGBTQ-friendly businesses, encouraging them not to purchase or sell Yuengling:
"...today it was disclosed that D.G. Yuengling & Son, Inc. and the Yuengling Brewery are using OUR dollars to support Donald J. Trump! 
The concern over Trump's bigotry raises other dilemmas over race relations in Philly's Gayborhood. Earlier in October, drag star Shangela appeared onstage at gay club ICandy, confronting the bar's owner Darryl DePiano about his use of racial slurs on a 2013 video that recently surfaced. DePiano apologized, but issues of racism in the Gayborhood continue to persist. Sims has been notably quiet on the situation. 
On October 25, the night before Sims took to Facebook to call out Yuengling and encouraged support of "our black and brown neighbors," the Philadelphia Commission on Human Relations held a hearing on racism and discrimination, Philly Mag reported, at which speakers recounted personal testimonies of experiencing bigotry in the Gayborhood. Business owners, activists and local politicians including Mayor Jim Kenney all attended the hearing. Sims did not. 
While individual beer drinkers are continuing to tweet and claim their support of the Yuengling boycott, several bars, including gay bars, have also pledged to stop serving the Trump-endorsing brand. According to Facebook, U Bar, Tavern on Carmac and Washington D.C.'s JR's Bar have all dumped Yuengling. Charles King, the General Manager of The New Baltimore Eagle, a bar slated to open in coming weeks, also promised to remove Yuengling from the menu. 
This isn't the first boycott of Yuengling in recent history.
In 2013, a boycott was staged against Yuengling and the Yuengling heir who supported the passage of Pennsylvania's Right to Work law, which would weaken unions and has yet to pass. And in 2014, the Teamsters union called for a boycott of Yuengling, along with several other beer brands, in response to the companies' endorsements of anti-union legislation. 
It's hard to say if Yuengling's Trump endorsement will actually swing anyone's vote, but in an election cycle dominated by craft beer, the boycott adds an interesting twist.