Apple launches TV, a new Apple TV app that combines your whole TV experience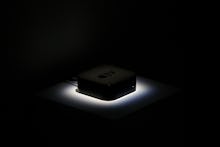 At Apple's Oct. 27 event, Apple design lead Jen Folse revealed the latest development in Apple TV. It's just called "TV," and it's an app that combines your entire television-watching experience across multiple apps.
That means if you're watching Westworld and catching up on Gilmore Girls at the same time, you can view both shows in your TV queue, independent of the apps that feature them — HBO Now and Netflix, respectively.
A feature called Up Next has all the shows you're currently watching, with the newest episodes once they're available — like The Big Bang Theory. Bazinga!
There's also Siri integration, of course. Ask Siri to play Parks and Recreation, and she'll queue it up where you left off. The virtual assistant can also open a news network to view a live news report or presidential debate. 
"It brings the best shows and movies ... all in one place," Folse said.
TV will be available as a free upgrade at the end of this year, Apple CEO Tim Cook said during the presentation.
This story is developing.