Halloween music 2016: 5 haunting classical music pieces that channel horror vibes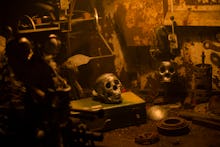 When modern musicians attempt horror music, it often falls in one of two categories — the indefensibly violent or the epically cheesy. There's almost no subtly to lyrically driven scary music, nothing that takes time to cultivate that unsettling, ominous calm just before the witching hour strikes. Halloween buffs looking to fill their rooms with the right haunted mood for an evening in with a book of Lovecraft or Poe generally have to delve centuries back to find something that fits.
Here are five of the spookiest throughout music history, along with a sampling of the stories that inspired them.
1. Modest Mussorgsky's Night on Bald Mountain
Even if you don't know the name, you've likely heard the tune. It appears in Disney's Fantasia, soundtracking an eerie animation of a demon awaking from a long slumber and descending on an unsuspecting town to wake the dead. However, the original story inspiring the piece was far darker. 
Mussorgsky, the composer, was inspired by a play detailing the activities of a witches sabbath. As he once explained the program:
"So far as my memory doesn't deceive me, the witches used to gather on this mountain, ... gossip, play tricks and await their chief — Satan. On his arrival they, i.e. the witches, formed a circle round the throne on which he sat, in the form of a kid, and sang his praise. When Satan was worked up into a sufficient passion by the witches' praises, he gave the command for the sabbath, in which he chose for himself the witches who caught his fancy."
Not exactly Disney PG fare.
2. Hector Berlioz's "Dreams of a Witches' Sabbath" from Symphonie fantastique
Berlioz's Symphonie fantastique is a tone poem relating the story the gradual dissolution of a lovesick artist's into a drug-induced madness. Feeling himself spurned by his love, the symphony's main character attempts to poison himself, but ends up just sending himself into a satanic hallucination. The composer details the "diabolic orgy" attended by a melodic representation of his love in the piece's program:
He sees himself at a witches' sabbath, in the midst of a hideous gathering of shades, sorcerers and monsters of every kind who have come together for his funeral. Strange sounds, groans, outbursts of laughter; distant shouts which seem to be answered by more shouts. The beloved melody appears once more, but has now lost its noble and shy character; it is now no more than a vulgar dance tune, trivial and grotesque.
3. Béla Bartòk's Adagio From Music for Strings, Percussion and Celesta
A prime example of Bartók's "night music," characterized by its eerie dissonances and sparse melodies, Music for Strings, Percussion and Celesta is perfect horror movie fair. It appeared in Stanley Kubrick's The Shining to establish the sense of isolation pervading the Overlook Hotel. The melodies stay quiet and subtle until around 4-minute mark when the instruments start creeping up to their full domineering strength.
4. Sergei Rachmaninoff's "The Isle of the Dead"
Rachmaninoff wrote The Isle of the Dead after viewing a black and white version of an Arnold Böcklin painting with the same name, which depicts an oarsman rowing a coffin toward a grim, isolated island. Rachmaninoff was so moved by it that he almost immediately start writing the piece's haunting melody, which begins in slow undulations like oars passing through the water. 
"When it came, how it began — how can I say?" he said, discussing the information. "It came up within me, was entertained, written down." His piece includes the ominous "Dies irae," an iconic Gregorian chant melody from the Mass of the Dead. 
5. Camille Saint-Saëns' Danse Macabre
Each instrument in Saint-Saëns' Danse Macabre tone poem is meant to represent a different character in an infernal dance that takes place witching hours, according to the Awl's Fran Hoepfner. The violin is the Devil, a xylophone mimics a set of rattling bones. They swoop and dive through the score before the crow (an oboe) signals the break of day, and the dance of death ends.