In Florida, Hillary Clinton fights complacency even as Trump's presidential hopes fade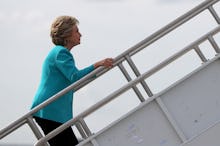 TAMPA, Fla. — Hillary Clinton celebrated her 69th birthday on Wednesday, in the midst of a campaign that has aged everyone by at least several years.
Stepping out of a black SUV and standing on the tarmac at Miami International Airport, Clinton paused to respond to reporters shouting over the engines of her custom-designed Boeing 737 campaign plane, asking how she was feeling on her birthday.
She flung her arms up in the air and basked in the Florida sun, a moment captured by New York Times photographer Doug Mills that quickly went viral:
Throughout the rest of the day, Clinton and her staff seemed to be genuinely enjoying the jaunt across Florida. Winning will do that to campaigns, just as falling poll numbers will cast a pall over a losing effort. Just about anyone not named "Trump" who isn't being paid by his campaign assumes Clinton is coasting to victory.
That's also the problem. Winning can likewise breed complacency, and plenty of politicians have taken victory for granted only to be shocked once voters make their decision.
Even as Clinton and her team seemed more confident than ever, her message to voters was marked by a lingering sense of nervousness and anxiety, thanks in part to a Bloomberg Politics poll showing Trump with a 2-point lead in Florida. 
Over the course of two campaign events on Wednesday, Clinton came with a plea to voters: Don't blow this.
All eyes on Florida
Simply put, if Clinton wins Florida, she will almost certainly be the next president of the United States. Donald Trump's dwindling path to victory becomes nearly nonexistent if he fails to capture the Sunshine State's 29 electoral votes.
The Trump campaign acknowledges this fact. "If we don't win [Florida], we're cooked," one official told Bloomberg Politics. Trump spent three days in the state this week in an effort to shore up support, and said Wednesday that he believes he's winning in the state (for what that's worth).
The current state of the race, however, points to a narrow Clinton victory. The RealClearPolitics polling average in Florida shows Clinton leading 46.4% to Trump's 44.8%, and FiveThirtyEight's polls-only model gives Clinton a roughly 70% chance at winning the state.
But Florida's track record in presidential elections strikes fear in the hearts of many Democrats, for whom memory of the 2000 recount likewise looms large. President Barack Obama barely won the state in 2012, squeaking out a 0.9% victory over Mitt Romney after winning the state by almost 3 points in 2008.
The Clinton campaign's biggest fear is that her slim margins in battleground states could be erased if her large lead in national polls causes Democrats and Democratic-leaning independents to stay home. The fact that the campaign spent two days in Florida — with a return trip planned for Saturday — underscores how worried they are that Clinton's increasing chances of victory could dampen turnout on Nov. 8 and harm down-ballot Democrats who could flip control of the Senate.
Her campaign has developed strategies to hedge against this possibility. The campaign's robust ground operation helped fuel a 99% increase in new Hispanic voter registrations over 2012 before the state's registration deadline. That infrastructure is now focused on encouraging early voting in a state where more than 2 million votes have already been cast, with the campaign hoping to bank enough votes to enter Election Day with an insurmountable advantage.
"Just ask my friend, former Vice President Al Gore."
A decidedly upbeat Clinton made the pitch for early voting and showing up on Election Day explicitly in two appearances on Wednesday, first in Lake Worth and again in Tampa.
Speaking at a gymnasium at Palm Beach State College in Lake Worth early in the afternoon, Clinton was met with a mass rendition of "Happy Birthday" before launching into her argument that Democrats should not rest on their laurels, invoking the memory of 2000.
"There are only 13 days left in this important election, and I have to tell you, it is so clear how high the stakes are," she told the crowd of 2,100. "And I am going to work as hard as I can over these next 13 days reaching out to as many people as possible. We can't take our foot off the gas even for a short time. Every vote counts — just ask my friend, former Vice President Al Gore."
On the flight to Tampa, Sen. Bill Nelson, Florida's longtime Democratic senator who spoke before Clinton at the event, told reporters huddled in the back of Clinton's plane that he considered the race "uncomfortably close" but thought Clinton would emerge victorious.
"I think she's up three and will be up five by Election Day," Nelson said, straying from the party line that the race is closer than polls might suggest. "You can hold me to it."
Before the second event in Tampa Wednesday afternoon, Clinton communications director Jennifer Palmieri explicitly outlined the campaign's concern that their strength in national polls might suppress turnout in battleground states.
"We're all pretty seasoned hands, and we know that 13 days out, if you seem to be up a lot in national polls, human nature says that people could think their work isn't as needed, they don't need to make that extra phone call or maybe their vote doesn't count as much," Palmieri told reporters huddled outside the Tampa Museum of Art on the city's waterfront. "Being in Florida in particular, Hillary wants to make the point that every vote counts, every phone call counts. And to keep people focused on working as hard as they can."
"Donald Trump says he can still win, and he's right."
Following a spirited introduction by Chef José Andrés, Clinton was met with chants of "Happy Birthday" by a crowd of 4,500 assembled at Curtis Hixon Waterfront Park.
Clinton began her remarks by criticizing Trump for "once again [relying] on undocumented workers, the same people he has been insulting and demonizing throughout this campaign" to renovate the Trump International Hotel in Washington, D.C., where Trump had presided over a ribbon-cutting ceremony earlier in the day. Clinton tried to cast Trump's actions as evidence of his hypocrisy, but the line was met with awkward spatterings of applause by the crowd in a city with a sizable Hispanic population.
After reciting familiar lines about her policy stances and what she called Trump's "dark, divisive vision of America," Clinton warned the crowd standing in the sweltering Florida sun not to take victory for granted.
"Donald Trump says he can still win, and he's right," she said. "That's why it's so important everyone gets out and votes. And here in Florida — in a lot of places, you can only vote on Election Day, but here in Florida, voting couldn't be easier."
After a short drive back to the Tampa airport, Clinton, her staff and the press boarded her plane for the flight back to New York, where she would spend the night celebrating her birthday with family. Shortly after dinner was served in the press cabin, Clinton came down the aisle with slices of the birthday cake her staff had surprised her with that morning:
As reporters and photographers scrambled over seats in a mad dash to get a good shot or ask a question, Clinton told the assembled group that she was taking nothing for granted.
"I feel good, but I am really determined that nobody is going to rest or stop or, in any way, you know, think this election's over before it's actually over," she said. "We're going to keep working really hard to reach as many voters as possible."
Clinton, who will return to Florida on Saturday following trips to North Carolina on Thursday and Iowa on Friday, is in a position that most candidates would envy. She is more likely than ever to become the next president of the United States, and could usher in a wave of Democrats in Congress to push her agenda.
But to get there, she must also downplay her chances of victory to make sure her voters turn out. Maybe there is such a thing as winning by too much.