Apple's new MacBook Pro 2016 has an emoji keyboard — and your friends are gonna be jealous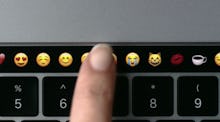 At its Oct. 27 event, Apple revealed the next-generation MacBook Pro — a thinner, lighter laptop with a breakout feature called the Touch Bar. It's a digital row that sits at the top of the MacBook Pro's keyboard and changes functions depending on what apps you're using. At the event, Apple  executives demonstrated the Touch Bar with a lot of apps you'll never use, like pro DJ software — but we're guessing there's one feature you'll be quite excited to show off: the emoji keyboard.
Presenting the MacBook Pro's emoji keyboard
From the promotional videos Apple presented at the event, the emoji keyboard is an option every time you're writing text in apps like Messages and Mail. It has "broader categories on the left and specific emoji on the right," Mashable reported.
If you're sick of switching to your iPhone every time you want to add some faces to a tweet, you'll enjoy this. But...
Surprise! Your Mac already has an emoji keyboard.
If you can't afford the $1,799 it'll cost to buy the Touch Bar-equipped MacBook Pro, don't fret — your Mac already has an emoji keyboard. It's a menu you can pull up by hitting the keystroke combo control-command-space. 
Right?