MacBook Pro 2016 price and release date: When will Apple's new MacBook Pro come out?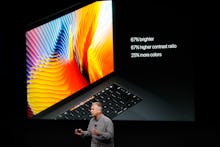 When will the MacBook Pro 2016 come out? Technically today — but the whole answer is a bit more complicated than that.
At Thursday's press event, Apple's senior vice president of worldwide marketing, Phil Schiller, said the latest editions of the MacBook Pro are available to order immediately. A glance at Apple's official website confirmed this to be true. The catch, however, lies with what model you plan on purchasing. 
All versions of MacBook Pro equipped with the new Touch Bar will take 2-3 weeks to ship. But there's a cheaper, 13-inch MacBook Pro with no Touch Bar, which will arrive at your door much sooner. 
For those unconcerned with the frills of the Touch Bar, the simplified 13-inch MacBook Pro will ship in under a week. Those who order immediately can receive their new purchase by Halloween. 
MacBook Pro 2016 pricing and specs
The entry-level 13-inch model, with no Touch Bar, costs $1,499. The other 13-inch MacBook Pros cost $1,799 and $1,999. It'll cost more to upgrade the RAM from the standard 8GB. 
The 15-inch MacBook Pros come with 16GB RAM and cost from $2,399 or $2,899. 
The MacBook Air is dead
The entire MacBook Pro line has been lightened and slimmed down considerably, basically rendering the MacBook Air line obsolete. Though Apple didn't specifically say so, it seems apparent that this new, Touch Bar-free MacBook Pro is replacing the Air as the company's default entry-level notebook.
The new MacBook Pro line comes in a variety of size and storage options, but the Apple event primarily revolved around the unveiling of the OLED-display Touch Bar, which works in conjunction with a variety of apps and programs depending on the function.
A full breakdown of the new device's specs, features and price can be found here.