Former Miss Finland Ninni Laaksonen becomes 12th Donald Trump sexual misconduct accuser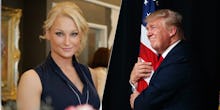 With just 12 days to go until the election, a 12th woman has accused Donald Trump of sexual misconduct. 
On Thursday, Finnish tabloid Ilta Sanomat published the account of Ninni Laaksonen, who was crowned Miss Finland in 2006. The tabloid stumbled upon Laaksonen while contacting Finnish women who'd met the Republican nominee.
Laaksonen told the tabloid that she had been positioned next to Trump for a photo opp before a Late Show With David Letterman appearance. This put her well within groping range.
"Trump stood right next to me and suddenly he squeezed my butt," she recalled. "He really grabbed my butt."
"I don't think anybody saw it but I flinched and thought: 'What is happening?'" she added.
Laaksonen said she'd also met Trump's wife, Melania, whom he married in 2005. She said Melania attended parties with some of the contestants. "Somebody told me there that Trump liked me because I looked like Melania when she was younger," Laaksonen said. "It left me disgusted." 
Laaksonen is not the only pageant contestant to have experienced the indignity of Trump's tiny, grabbing hands on her bottom. In a June Facebook post, Miss Washington USA 2013 Cassandra Searles accused Trump of treating the Miss USA contenders "like cattle" and added that he "continually grabbed [her] ass and invited [her] to his hotel room."
At least 11 other women can attest to similar experiences with the candidate. Since the Washington Post shared with the world a hot mic recording of the candidate fondly describing his methods of seduction in terms of sexual assault, women who have been harassed, groped, verbally abused, indecently propositioned and sexually assaulted by the candidate have come forward, one after another.