Officers in riot gear remove Dakota Access Pipeline protesters from site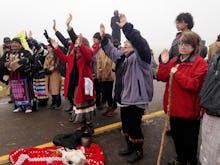 Law enforcement in Morton County, North Dakota — armed in riot gear — began removing protesters who were occupying the Dakota Access Pipeline site on the Standing Rock Sioux reservation Thursday.
Officers arrested more than 140 protesters, according to CBS News. A woman was arrested for allegedly firing three shots at militarized police officers, and an armed truck driver said he was allegedly shot in the hand when clashing with protesters.
"They maced people today, they tased them in the face," one protester told CBS News. "President Obama needs to stop this pipeline from happening."
The sheriff's department claimed the protesters set a bridge and a tire on fire on a highway, according to the Huffington Post. 
Officers removed a roadblock placed by Native American and environmental rights activists. The removal process resulted in a clash between protesters and officers, who were equipped with firearms, trucks, Humvees, buses, police cars and helicopters. Protesters have been camped out on the site since Sunday.
Twitter users are also documenting clashes on the scene and one user tweeted that officers are threatening to run over protesters.
The Black Lives Matter movement also tweeted their support for Dakota Access Pipeline protesters:
The Dakota Access Pipeline is a $3.8 billion project developed by Energy Transfer Partners and is expected to stretch 1,172 miles from North Dakota to Illinois through sacred Native American land.
Opponents say the projected pipeline, which will be used to transport oil, could contaminate their drinking water if it leaks, and will also destroy sacred Native American burial sites. 
Watch protesters stand their ground:
Oct. 28, 2016, 10:08 a.m.: This post has been updated.