Illinois Sen. Mark Kirk accused of racism after tone-deaf jab at opponent's Thai heritage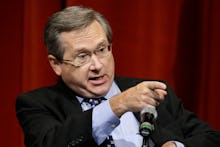 Sen. Mark Kirk of Illinois rescinded his support for Republican presidential nominee Donald Trump amid a flap over the real estate mogul's racially charged attacks on the Mexican heritage of a federal judge — but now it's Kirk who's facing accusations of racism.
During a debate Thursday with Democratic Rep. Tammy Duckworth — whom polls suggest has the upper hand in the Land of Lincoln's closely watched Senate race next month — Kirk leveled a head-scratching jab at the Iraq veteran's Thai heritage, after she touted her family's history of military service dating to the American Revolution.
"I had forgotten your parents came all the way from Thailand to serve George Washington," Kirk said, his remarks greeted by stunned silence in a Springfield auditorium.
Duckworth, who is of mixed heritage, traces her roots on her father's side back to the Revolution.
Kirk, who narrowly won his seat in the GOP wave year of 2010, faced swift condemnation for his jab at Duckworth's Thai ancestry, with some critics pointing out that Kirk has repeatedly exaggerated his own military record and others targeting the Human Rights Campaign for backing his campaign.
Kellyanne Conway, Trump's campaign manager, also pounced, calling the senator a hypocrite in a late-night tweet.
In a statement provided to Mic, the Kirk campaign acknowledging her family's military service and reaffirming that the senator considers Duckworth — a double amputee — a "war hero."
"Sen. Kirk has consistently called Rep. Duckworth a war hero and honors her family's service to this country," spokesperson Eleni Demertzis said. "But that's not what this debate was about. Rep. Duckworth lied about her legal troubles, was unable to defend her failures at the VA and then falsely attacked Sen. Kirk over his record on supporting gay rights."
Demertzis did not address the racially tinged nature of Kirk's remarks.