Secretary of State Joe Biden? VP reportedly Hillary Clinton's top pick for chief diplomat.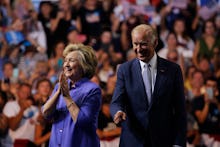 Since his election to the New Castle County Council in Delaware in 1969, Joe Biden has served continuously in public office for nearly half a century — and he may not stop when his two terms as vice president are up Jan. 20.
Biden, who made his name as one of the U.S. Senate's top foreign policy mavens long before he was the country's avuncular veep, has emerged as the frontrunner to serve as secretary of state should Hillary Clinton win the presidency, Politico reported late Thursday, citing a source close to Clinton's transition team.
If Biden is indeed at the "top of the internal short list," as Politico reports, it's unclear how secure his status there is; according to the report, Biden has yet to discuss the job with Clinton. But the source said Clinton's orbit views him as an obvious selection.
"He'd be great, and they are spending a lot of time figuring out the best way to try to persuade him to do it if she wins," the source told Politico.
The onetime Senate Foreign Relations Committee chairman has often been a skeptic of ramped-up foreign interventions, opposing the Obama administration's escalation of the U.S. war in Afghanistan and the U.S.-backed ouster of Libyan leader Muammar Gaddafi, a policy Clinton championed when she was secretary of state.
Should Clinton tap Biden to serve as the country's chief diplomat, it may signal her desire for a so-called team of rivals that will occasionally push back against her more hawkish instincts on foreign policy. And though Biden and Clinton have been publicly chummy during their service in the Obama administration and their joint appearances on the campaign trail, the tensions in their relationship have occasionally spilled into public view.
Emails recently released by WikiLeaks show how worried Clinton's campaign was about the possibility he would challenge her for the Democratic presidential nomination this year. And Biden has publicly needled Clinton on matters from bipartisanship to income inequality.
But while Biden said as recently as this week he was already in discussions with "a couple of major universities" about his post-vice presidency career, he may be open to joining a future Clinton administration.
In an interview in July with ABC News' George Stephanopoulos, Biden refused to rule out serving in another public office.
"I don't plan on saying goodbye," Biden said. "My dad used to have an expression ... 'It's a lucky person who gets up in the morning and puts both feet on the floor, knows what they're about to do and thinks it still matters.' I still care deeply about so many things."
Moreover, Biden's longstanding interest in foreign policy could make life as a globe-trotting diplomat appealing. And though the soon-to-be-74-year-old may be looking forward to a life off the treadmill of public service, he was also reluctant to accept President Barack Obama's vice presidential offer in 2008.
A sense of duty ultimately won out.
"I am not interested in being vice president," Biden said on NBC's Meet the Press in June 2008, two months before his selection. "I've let the candidate know. If the candidate asks me to be vice president, the answer is I got to say yes."