Birth control for men: Contraceptive injection prevents pregnancy in new study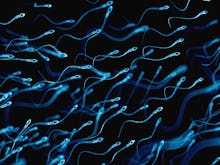 When it comes to preventing pregnancy, there are plenty of contraceptive options — like birth control pills, implants and IUDs — designed for people with female reproductive systems. But for people with male reproductive systems? Sadly, not so much.
But that could change. An injectable contraceptive — the latest in a series of forays into birth control for people with penises — proved highly effective at preventing pregnancies in a new study published in the Journal of Clinical Endocrinology & Metabolism. Despite various side effects — including mood disorders, acne and erectile dysfunction — a majority of the participants were happy with the birth control method, and said they'd use it if it were available.
"The study found it is possible to have a hormonal contraceptive for men that reduces the risk of unplanned pregnancies in the partners of men who use it," researcher Mario Festin said, according to the BBC.
How it worked: The injections contained the hormones progestogen and testosterone, and researchers aimed to see whether they could reduce subjects' sperm concentration enough to effectively prevent pregnancy. 
Because people with healthy male reproductive systems constantly produce sperm, it tends to take high doses of hormones to get a person's sperm count down to 1 million per milliliter, according to the BBC. In past birth control trials, excessive hormone levels have caused men to break out, put on weight and experience prostate and liver problems.
To conduct their study, researchers recruited "healthy men, aged 18 to 45 years, and their 18- to 38-year-old female partners, both without known fertility problems," according to the study. The men were injected every eight weeks.
The results: After 24 weeks, 96% of participants had sperm concentrations less than or equal to 1 million/mL. Over the course of 56 weeks, just four pregnancies occurred among the partners of 266 men. The researchers also found the suppression of sperm creation to be reversible.
"The study regimen led to near-complete and reversible suppression of spermatogenesis," the researchers concluded. "The contraceptive efficacy was relatively good compared with other reversible methods available for men."
It's promising, but not perfect: Side effects caused 20 men to drop out the study early.
Of these 20, six men discontinued only for changes in mood, and six men discontinued for the following single reasons: acne, pain or panic at first injection, palpitations, hypertension and erectile dysfunction. Eight men discontinued for more than one side effect, including multiple reasons related to changes in mood.
Due to the risks of mood changes, depression, pain and decreased libido, the researchers stopped taking on new study participants in 2011.
Nevertheless, 75% of participants said they were "at least satisfied with the method and willing to use this method if available, which supports further development of this approach."