Killer Mike turned the Clinton campaign's leaked emails about him into the shadiest merch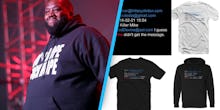 Hillary Clinton may have bested Killer Mike and his candidate of choice Bernie Sanders in the race for the Democratic nomination, yet it looks like the Atlanta MC may have the last laugh.
The polemical rapper, one half of the mighty Run the Jewels, unveiled a new line of merchandise Thursday that includes text from the Clinton campaign's emails that discuss the rapper. 
Recently leaked by WikiLeaks, the emails detail how Clinton should respond to the allegations surrounding her private email server, her shifting stances on an Asian trade pact and her family's charitable foundation.
They also discuss Killer Mike, several times. In an email sent to Clinton campaign chairman John Podesta, a staffer writes "I guess Killer Mike didn't get the message." 
In a devilishly shady retort, Killer Mike's merch line is called "I Don't Check Messages."
Killer Mike's name appears numerous times in the leaked emails, most notably in discussions over whether or not the campaign should exploit his indelicately worded assertion that "a uterus doesn't qualify you to be president of the United States." 
The MC said it at a Sanders rally, quoting activist, educator and Sanders supporter Jane Elliott to explain how people have to vote based on the issues, not simply the gender of the candidate they would like to see in the White House.
"He's quoting someone else but still bad," one of the emails reads. "Might be worth having a female surrogate hit this. Or just let it do it's own damage. If someone hits it would make it understated."
Killer Mike's move is somewhat of a coup de grace in his heated scrap with the presidential nominee. After engineering some of Sanders' greatest campaign moments, including their sit-down barber shop talks, Killer Mike continued to criticize Clinton up through August when he told TMZ, "If you're voting for Trump or Hillary Clinton, you're voting for the same thing."
The Run the Jewels rapper did leave Clinton's name out of the group's most recent track, "Talk to Me," taking aim at Trump and Trump alone, describing him as a "devil" wearing "a bad toupee and a spray tan." 
Killer Mike's masterfully shady merch seems to serve one more lesson for candidates on how to politic in 2016: don't piss off the entertainers that choose to enter the campaign sphere. They're not going to go down without a fight.