A Tribe Called Quest set release date for their final album, inspired by the Paris attacks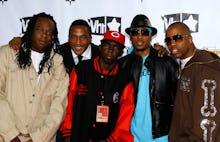 This is not a drill. This is as real as it gets. A Tribe Called Quest, the legendary, groundbreaking golden age hip-hop crew of Q-Tip, Ali Shaheed Muhammad, the late Phife Dawg and sometimes Jarobi White ("A, E, I, O, U and sometimes Y") have officially announced the release date of their final album.
A giddy Q-Tip shared the news last night. "Get to dat gram get to dat FB," he tweeted Thursday night. "I HAVE SOMETHING FOR YA." On the 'Gram fans found a handwritten note detailing the project and its creation myth.
Q-Tip reassured the people that the album won't be filled with "old Phife bars," as he wrote. "This is that pure, unstepped on pure!"
Phife Dawg died due to complications from diabetes in March, a sudden tragedy to an outpouring of love and support from the hip-hop community. 
"Anything I ever did wrong, blame Tip and Phife 'cause y'all raised me," Kanye West said at a memorial service for the legend in April. Phife Dawg will soon have a street renamed after him in Queens.
Q-Tip's letter also reveals how the album was inspired in part by the attacks that took place in Paris last November, the same night the group performed on the Tonight Show, their first television performance in 18 years. Their new joint will come out Nov. 11, days within the one year anniversary of the attacks.
It's hard to think of a better way to memorialize that tragedy, which was in large part an attack on Western musical culture, than with an album from the source, the act that welcomed so many listeners into hip-hop, A Tribe Called Quest.
Do what you need to do to prepare: Tell your mother, tell your father, send a telegram. It's going down.
Read the text of Q-Tip's letter in full below:
To all the good people worldwide!