Kendall Jenner breaks her silence on that 'Vogue' ballerina photoshoot scandal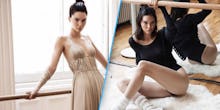 In September, model Kendall Jenner ticked off ballerinas around the world. 
In a video released by Vogue España, which has now been viewed more than 2 million times, Jenner was seen in full ballerina regalia, bending over bars and posing in legwarmers, as she talked about her childhood ("I had to grow up pretty fast"), her personality ("I like to be around people") and her loves ("I love walking around"). 
And that really pissed some professional dancers off. 
They said it was appropriating dance culture. They said it wasn't right that Jenner was hired to dance around like a ballerina, when she herself was not a ballerina. They said it wasn't right to reduce ballet culture to a photoshoot. Some tried to stay levelheaded, noting that Jenner was clearly just trying to do her job, but the community was clearly upset. 
"The issue I find is that mainstream media is attempting to capitalize on our art form because it's hot right now, but whether intentional or not, they are shaming our art form by not representing our technique and the years it takes to attain what we do and how we do it," Allison DeBona, a professional ballerina, told Mic at the time. 
On Thursday, in a blog post, titled "About that ballerina photo shoot," she wrote: "It's so funny that people are getting pregnant and married — or having crazy drama — but my drama is ballerinas being upset at me! With my Vogue Spain shoot, I didn't even know I was going to be a ballerina until I went into hair and makeup."
Still to Jenner, this borrowing of dance culture seems like small beans compared to all the other issues going on with the world. 
"It confuses me how people can get that upset when there are so many important things going on in the world," she wrote. "But, it's obviously not going to stop me from working hard and being me." 
Jenner doesn't elaborate about what those said "important things" are, but we can read between the lines and say that she's probably nodding to poverty, racism, sexism and all that jazz. 
So no, dance community, you will not be getting an apology from Kendall Jenner. And so far, Twitter is pretty OK with that.