Facebook lets advertisers target you by race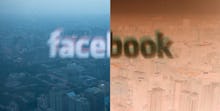 You don't have to tell Facebook what your race is in order for it to measure your interests, put you in an ethnic affinity group and sell that information to advertisers.
Facebook's advertising platform lets its advertisers target certain ethnic groups, ProPublica reported. Using simple drop-down menus, the advertisers that prop up Facebook's $350 billion business can choose groups like "African-American" or "Hispanic (U.S. — Spanish dominant)" to exclude.
The investigators at ProPublica also tried to run a housing-related ad that excludes minority groups from seeing the advertisement. Running a housing advertisement that discriminates by "race, color, religion, sex, handicap, familial status or national origin" is illegal under the Fair Housing Act of 1968. The ad was approved by Facebook in 15 minutes.
If Facebook offers this feature to recruiters or employers putting up job listings, it could be a violation of the landmark Civil Rights Act of 1964, which prohibits recruiters or employers from "printing or publication of notices or advertisements indicating prohibited preference, limitation, specification or discrimination."
Facebook claimed that targeting by race is "a common practice in the industry" in a statement to Mic via email, saying that targeting ads toward Spanish speakers, for example, helps deliver Spanish-language advertising.
"We believe that multicultural advertising should be a tool for empowerment," Facebook told Mic. "We take a strong stand against advertisers misusing our platform: our policies prohibit using our targeting options to discriminate, and they require compliance with the law. We take prompt enforcement action when we determine that ads violate our policies."
"Race" online: Facebook claims it doesn't track race, but instead measures a person's likes and interests in order to categorize them into "ethnic affinities." This is a textbook case of defining race by "proxy data," or pieces of information that can stand in for race.
Proxy data is an easy way to target these groups without breaking the law. Since the United States is still largely geographically segregated, for example, the tobacco and alcohol industries ramp up their spending on billboards in black neighborhoods. In these neighborhoods, fast food chains are 60% more likely to target children, and menthol cigarettes are featured heavily in street-level ads.
Facebook isn't the only major tech company whose tools allow people to attempt to creatively violate civil rights legislation. Harvard researchers showed that Airbnb hosts are 16% less likely to accept guests with "distinctively African-American names," a practice that undermines decades of hard-earned advances in civil rights.