More than 100 DAPL protesters arrested after clash with police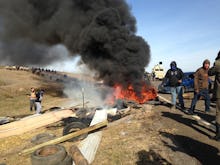 A violent standoff between police and civilian protesters at the site of the planned North Dakota Access Pipeline on Thursday ended with 141 arrests and gunfire, according to law enforcement officials.
On Thursday morning, peaceful protesters milled about, forming what the Bismarck Tribune refers to as "human lines of resistance," in an attempt to show solidarity against the pipeline's construction.
By midday, the conflict had come to a head. Members of the National Guard clad in riot gear descended upon the protesters camped out on the private land, Standing Rock Sioux Tribal Chairman Dave Archambault II told the Tribune, firing off pepper spray and rubber bullets as they came.
While some protesters were peaceful, urging prayer and nonresistance, the Morton County Sheriff's Department said authorities attempting to arrest the protesters were met with violence in some cases, with at least one protester firing a gun at law enforcement and others hurling molotov cocktails at police vehicles. 
The clash was the culmination of a months-long standoff between the Army Corps of Engineers forces protecting the pipeline's planned site and those who oppose the project's construction, including the Standing Rock Sioux Tribe of North Dakota.
If completed, the $3.8 billion dollar pipeline would transport oil through a 1,172-mile stretch of land from North Dakota to Illinois — a path that the Standing Rock Sioux claims bisects their sacred lands, including Cannonball Ranch, an ancient burial ground purchased by the Dakota Access LLC for construction in September 2016.
On Thursday, one of the protest's organizers, Dallas Goldtooth, told the Bismarck Tribune that the pipeline's opposition had long expected a clash with police. 
"This is not a loss, we always knew this camp was at risk," he said. "We want the world to see how far North Dakota and their police will go to protect an oil company."
But according to the Washington Post, protesters weren't the only parties unwilling to back down from a fight — police also vowed to hold their ground.
"We are not leaving the area," Morton County Sheriff Kyle Kirchmeier said. "We are holding it."