Amy Schumer insists her "Formation" video was about "women celebrating each other"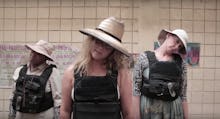 Comedian Amy Schumer got into hot water earlier this week for her thoroughly bizarre take on Beyoncé's "Formation," which sparked the hopeful hashtag #AmySchumerGottaGoParty.
In response to the backlash, Schumer's first instinct was to post a nearly nude photo of herself on Instagram with the caption, "You know you that bitch when you cause all this conversation." 
And her second was to pen an essay on Medium carefully explaining why the video was about women's empowerment — because apparently that phrase can mean anything now.
"To have Goldie Hawn dancing with Wanda Sykes and Joan Cusack and Raven Goodwin and all the female writers and producers and crew from all over the world doing this together felt very powerful and right," Schumer wrote Thursday night. "It was never a parody. It was just us women celebrating each other."
Schumer emphasized how "Formation" and the entire Lemonade album had been an inspiration to herself and the other women working alongside her on the set of her new film Mother/Daughter. Schumer added she has nothing but respect and admiration for Beyoncé, who, by the way, gave the video her blessing.
Of course, the comedian, being of the sorry-not-sorry camp, isn't one to apologize for any controversy involving her. When Inside Amy Schumer writer Kurt Metzger got slammed for making rape jokes during his comedy sets, Schumer defended him, calling Metzer nothing more than an "internet troll." 
In her Medium essay, Schumer said anyone who was hurt or offended by her "Formation" video is entitled to their feelings. But she made sure to let the haters know they'll have to do better than a Twitter drag to get rid of her.
"Use whatever hashtag you like," Schumer wrote. "My mission is to continue to work as hard as I can to empower women and make them laugh and feel better and I won't let anything stop me."