Will Hillary draft women? Inside #DraftOurDaughters, a fake ad campaign from the alt-right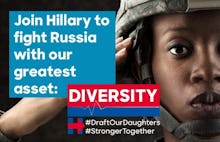 "He died for his country. Now, it's her turn."
If you're an active member of conservative Twitter, there's a chance you believed this was one of Hillary Clinton's glossy, new campaign ads. But if you're a member of the alt-right's latest misinformation campaign, you're trying to get everyone else to believe it is. 
A new hashtag campaign called #DraftOurDaughters — consisting of fake ads, catchy slogans and hashtags with an obsessively anti-Russia bend — is catching fire on Twitter and Reddit, aimed at convincing people that Clinton has just made the drafting of American women into the military a key part of her platform.
That's hardly the only such ad. Troll mobs on alt-right organizing hubs like 4chan and Reddit's /r/The_Donald are generating fake ads using the Clinton campaign's distinct logos and fonts. As of Friday morning, the #DraftOurDaughters hashtag was trending with over 50,000 tweets.
"Men make up 97% of combat deaths." "It's time to end the combat gap."
"Let's put the Mother back in Russia," says another. "Don't wait for the draft — enlist now. #DraftOurWives."
"All women are cremated equal."
In addition to memes, alt-righters have flooded Twitter and popular alt-right forums like /r/The_Donald with the fake ads, and created a BuzzFeed post under a pseudonym using BuzzFeed's Community Posting feature, which allows anyone to post to the site.
In order to exacerbate the problem, Redditors on /r/The_Donald shared links to fonts used by the Clinton campaign to enable people to make their own memes. It's unclear where the memes got their start — Reddit thinks it started on Facebooks, and the men's rights activists over at the Roosh V Forum think it started on 4chan.
The kernel of truth: In June, Clinton was asked if she supported a piece of legislation called the the National Defense Authorization Act, which includes a provision that women have to register with the Selective Service System, which practically every American male already does. She said she did.
"I am on record as supporting the all-volunteer military, which I think at this time does serve our country well," Clinton told the Huffington Post. "And I am very committed to supporting and really lifting up the men and women in uniform and their families."
The bill, which Clinton had functionally nothing to do with, passed in the Senate with broad bipartisan support in a vote of 85 to 13.
The last time someone was actually drafted for the military was in 1973. There have been no credible legislative proposals to reinstate the draft in the past half-century.