Clinton vs. Trump 2016: Here are the states you need to watch closely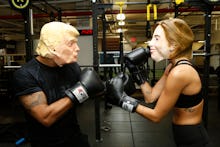 In the final stretch of the presidential election, there are two kinds of states you need to watch: swing states and "tipping point" states. The first matter because Donald Trump must win most (if not all) of them to take the White House. And the latter are important because they will pick the next president. Right now, the states that could provide victory in the electoral college trend toward Hillary Clinton. 
Swing states
These perennial bellwethers typically go to the winner. But given the changing state of the electoral map in 2016, the winner of the presidential election may lose some typical swing states. 
Ohio has favored the next president all but twice since 1896. This year, the race in Ohio is effectively tied. While the battleground's 18 electoral votes may very well go to Trump, according to current polls, it appears the Republican is likely to lose the presidential election with or without Ohio. 
Florida leans more clearly toward Clinton. While recent polls have showed a tightening race there, the Democrat has led in all but three surveys there since the beginning of October. After California and Texas, Florida is tied for the third-largest electoral prize on the map with 29 votes. Since 1976, the state has gone to the winner in every presidential election other than 1992. 
North Carolina has again emerged as a critical state in this election. Defeat there for Trump would likely guarantee his defeat. Given Clinton has a larger lead in North Carolina than Florida, this spells trouble for his campaign. In 2008, Barack Obama narrowly won North Carolina. It flipped back to Mitt Romney in 2012. 
Trump also faces challenges in Arizona, Georgia, Iowa and Nevada. The first two are Republican strongholds that would end his chances at winning the White House if they went blue. Though Iowa typically trends Democratic, Trump has found success in courting voters there. And the race is tied in Nevada, a state with 6 electoral votes that Trump desperately needs to reach 270. Nevada has voted for the winning presidential candidate each year since 1980.
"Tipping point" states
Trump has a major problem on the electoral map. If he wins all the states where he has the lead, along with Arizona, Florida, Georgia, Iowa, Nevada, North Carolina and Ohio, he will still be five electoral votes away from victory. And in the unlikely scenario he wins all the states listed above, polls suggest he would still struggle to pick up the final electoral votes necessary for victory.
In states where Trump hoped to be competitive with Clinton (Colorado, Michigan, New Hampshire, Pennsylvania and Wisconsin), she leads him by at least five percentage points. That is roughly in-line with her national lead, according to RealClearPolitics' average of the polls.
If  Donald Trump wins Arizona, Florida, Georgia, Iowa, Nevada, North Carolina and Ohio, he is still likely to lose.
For Clinton, victory is a lock with a win in Florida, Pennsylvania or Ohio. And even losses there will not necessarily stop her, as wins in North Carolina and Nevada would still make Clinton president.
The takeaway: Trump is not on track to win all those states, or even a majority of them. But even if he runs the table in these swing states, his "tipping point" would still have to come from states where Clinton holds wide leads.