Donald Trump vs. Hillary Clinton presidential polls: Where are voters most divided?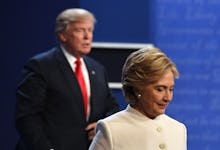 Democratic nominee Hillary Clinton is leading in the polls with less than two weeks to go until the presidential election.
The latest RealClearPolitics average of national polls puts her 5.2 points ahead of Republican nominee Donald Trump.
So where are voters most divided in their support for the two candidates?
A recent Investor's Business Daily/TechnoMetrica Market Intelligence poll breaks it down by age, race, gender, income and education. What they found is that Clinton has strong support among women, younger voters, blacks and Hispanics, low-income voters and those with a college education or higher.
According to the poll, conducted from Oct. 22-27, Clinton leads Trump 46% to 31% among voters age 18 to 44.
Clinton, who would be the first female president in United States history, has strong support among women, 49% to Trump's 34%.
Her lead among blacks and Hispanics is strong. According to the IBD/TMMI poll, she leads Trump 70% to 15%.
And when it comes to income and education, Clinton has a 51% to 31% lead over Trump among voters making under $30,000 a year. She also leads Trump among voters with a college education or more, 50% to 36%.
Mic has ongoing presidential coverage. Please follow our main election hub as well as coverage of Donald Trump and Hillary Clinton.