The surprisingly feminist history of Melania Trump's new favorite accessory: the pussy bow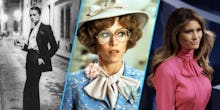 When Melania Trump stepped onto the stage at the second debate between Hillary Clinton and Donald Trump, all eyes were on her hot pink blouse. Or, rather, the bow at the very top of it. 
You see, 48 hours after audio of Trump's husband saying the words "Grab them by the pussy" leaked online, Trump wore a bow style, which is defined by its looseness and high placement on the neck, widely known as the "pussy bow." 
In fact, the name of $1,100 Gucci blouse was "pussy-bow silk crepe de chine shirt." Though it's entirely possible that Trump missed this — since she, of all people, would probably never look at a price tag — it caused people to question. Was this a silent rebellion?  Was this a subtle #ImWithHer? 
Before we were able to gather any sort of conclusion, Trump further confirmed her devotion to the style, wearing yet another pussy bow (this time, in black) to the third debate between her husband and Hillary Clinton. 
She just couldn't get enough. 
Though this bow style is the most talked about piece of clothing of late, with outlets from Vogue to the Washington Post zeroing in on it, the pussy bow is hardly anything new. In fact, it's been around a long time and has a surprisingly feminist history.
Before we get to the term "pussy bow," it's important to note that tying a bow around your neck is nothing new. Think Thomas Jefferson, or 17th century colonists. The pussy bow's history doesn't start with one woman donning a blouse with a matching bow at the collar. Rather, the first documented mention of the term "pussy bow," or, at the time, a "pussy-cat bow," came in 1934, when the pattern for a convertible dress was advertised in the newspaper the St. Petersburg Times. 
"Wear it with a contrasting scarf such as that in the large illustration — or with an intriguingly feminine pussy-cat bow, tied high under your chin!" the article, which was titled, "Make this model at home," read. 
According to International Business Times, the reasoning behind calling it a pussy-cat bow in the first place was because the bow (to some people) looked like the kind of bow you'd tie around a kitten's neck as an identifier. 
The trend took 20 years to really catch on with high-fashion designers, with Coco Chanel taking a shine to the bow style in the 1950s, incorporating it into many of her designs. 
Yves Saint Laurent designed this style of bow into his clothing too, including it in his iconic Le Smoking suit, which debuted in 1966. 
With both of those designers on board with the pussy bow, which is the abbreviated name more commonly used by designers (like Gucci), the style started being associated with a certain type of high-class, chic, effortless woman. 
But while they existed in high fashion throughout the '60s, it was only when the bow style came into popular culture and became readily accessible for the everyday woman during the late-1960s, 1970s and 1980s that it was boosted into feminist territory. 
During the PBS documentary Makers: Women Who Make America, the CEO of Hewlett-Packard, Meg Whitman, explained that during the late-1960s, '70s and '80s, women joining the workplace were faced with a predicament: What do you wear? How do you blend into a masculine workplace while still holding onto some sense of femininity? 
The answer was to mix men's basics with a feminine influence. 
"We used to dress in suits with a skirt and a jacket with button-down shirts and a little bow tie, because that was sort of our interpretation of the man's tie," Whitman said. "It was our attempt to be feminine but fit into what was then a male world." 
And although Whitman didn't mention that that "little bow tie" at the top of the blouse is called a "pussy bow," that is what she was talking about. 
Throughout these decades, powerful women started to wear this style of blouse more regularly, with Margaret Thatcher wearing them in the '70s and '80s too. 
For a while, the pussy bow was a signifier for a particular type of professional woman. 
Pop culture reflected this idea as well, with Jane Fonda wearing a pussy bow blouse in the 1980 movie, 9 to 5, which showed women striving in the workplace. 
For a more modern interpretation, Peggy Olsen on Mad Men wore pussy bows toward the show's end as she became more powerful in the workplace in the late-1960s.
But like with any trend, the pussy bow faded out of popularity for the working woman. Though that doesn't mean that designers ever lost an affection for the bow style, with it still making frequent appearances on the runway to this day. 
Now, the pussy bow has the Melania Factor. Almost instantaneously after Trump showed up to the debate in that fuchsia Gucci blouse, it sold out. Meaning that the bow isn't just for the runway any longer. 
So Melania Trump, whether she knows it or not, very well may have inadvertently started a revival of one of the most quietly feminist garments we have. How will we ever thank her?