Members of Green Day might've found the solution to non-recyclable coffee pods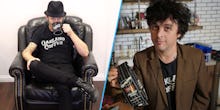 Don't wanna be an American Idiot? Buy some environmentally friendly coffee. 
Mike Dirnt and Billie Joe Armstrong of Green Day announced Friday the launch of Oakland Coffee, a company they co-founded that sells Fair Trade coffee in fully compostable bags. The innovative bags can allegedly preserve the freshness of beans better than paper bags that are already on the market. 
Dirnt and Armstrong had been importing and roasting small-batch coffee for themselves and their families for 10 years when they decided to make the coffee more widely available, Dirnt said in an email. 
"We postponed the launch of our coffee company to search out a better alternative [to conventional packaging,]" he said, explaining that his team partnered with San Francisco Bay Coffee to create fully compostable bags and green single-serve coffee pods. 
After investing five years and $2 million toward researching and developing the compostable products, the musicians and the San Francisco Bay Coffee are finally able to bring the concept of plant-based coffee bags to market, according to a press release.
This is good news: Non-recyclable coffee pods are destroying the environment, and conventional coffee bags, which are usually made with polypropylene film, aluminum or petroleum and can't be recycled. There are already recyclable coffee pods and compostable pods on the market, but they're  not mainstream quite yet. 
Oakland Coffee estimates that 18,000 pods are thrown out every minute of the day. In 2014, Keurig sold 9 billion of the little plastic pods — most of which probably ended up in landfills, the Atlantic reported.
Unconventionally enough, Dirnt and Armstrong aren't plastering their faces or personal brands on the product itself or its website, like many celebrities are wont to do when embarking on a food-related venture. (Ahem, Joey Fatone, Michael Jordan, Toby Keith, the list goes on...)
"We wanted to keep the focus on the coffee until we had the ability to make our sustainable coffees in sustainable packaging accessible to everybody," Dirnt said. "We care about high quality coffee, the farmers who make it, and making sure it's ethically sourced, fairly traded and sustainable."
Dirnt drinks a whole lot of coffee. "An average day consists of no less than four or five cups of coffee," he said, noting that on Friday, he had already had four cups of Oakland Coffee before 10 a.m. PST. (No soy or almond milk for Dirnt — he said he adds a splash of whole milk to his mug in the morning and then drink black coffee or espresso after noon.) 
Does he swill more coffee than Armstrong? "It's probably a tie," he said. Lucky for them, coffee intake is associated with a healthy, functioning liver, Mic previously reported. 
There are several ways you can score a sip of the green Green Day coffee. Bags of coffee will be available for purchase at Bay Area Costcos, on Costco.com and on Amazon. The compostable coffee pods will be available for order in a few weeks. 
Environmentally friendly java sounds like a pretty good way to have a Green Day, if you ask us. Rock on, guys.