Special Relationship podcast: "Rigged Election Realities," here and abroad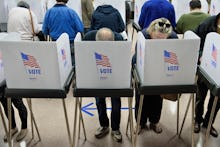 When he trails in the polls, Donald Trump keeps up a drumbeat of warnings about a "rigged system" that's working against his chances of beating Hillary Clinton and winning the presidency.
But is the United States' election system really rigged — or even riggable in the first place?
In the latest episode of Special Relationship, the political podcast from Mic and The Economist, we pose the question to Dana Perino, White House press secretary under former President George W. Bush and now host of Fox News Channel's The Five and the I'll Tell You What podcast.
Then we jump to Nairobi, Kenya, for a talk with Daniel Knowles, who covers the corrupt — and sometimes violent — politics of sub-Saharan Africa for The Economist, about what real rigged elections actually look like.
Our producer is Alan Haburchak. Our theme music is composed by Breakmaster Cylinder.
Subscribe to Special Relationship on iTunes, Google Play or wherever you listen to podcasts. Please rate and leave a review, and stay tuned for our 17th episode.