Months before Vine's demise, its biggest stars plotted their escape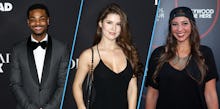 Vine is dead, but that doesn't mean its biggest stars are going down with the ship.
When news broke on Thursday that Twitter would shutter the six-second video service, many people began making jokes at Vine stars' expense and prematurely laughing at their demise.
But Vine stars aren't going anywhere. In fact, they're more popular than ever.
Vine's top tier of talent fled to other platforms a long time ago. Many recognized the app was faltering nearly a year before the public did, and they took steps to diversify.
"We all kind of saw it happening," Vine star Amanda Cerny, who has 4.7 million followers on the app, said Thursday night.
"It's a surprise that they're going to delete the app fully, and it's sort of sad because you can't go back onto the app and reflect on things," Cerny said. "But as far as the fans go, almost all of them translated to Instagram, YouTube, Snapchat and Facebook, which are bigger platforms for me now anyway. So it's not like I'm losing them."
After Cerny shifted her efforts to Snapchat, she said, Snapchat has recognized her as one of the top 10 most followed celebrities on the app — and she claims to receive more views than DJ Khaled. (Snapchat does not release user data and did not return our request for comment.)
"We all kind of saw it happening," said Amanda Cerny.
Other Vine stars moved to Facebook, where short native videos allowed them to reach a type of scale and mainstream audience they could have never achieved on Vine.
Piques, a Vine star with 3.1 million followers on the app, calls himself primarily a Facebook creator now.
"I stopped posting regularly on Vine last summer and started posting on Facebook," he said in a phone call Thursday. "In one year on Facebook, I gained around 8 million followers. In two and a half years on Vine, I got only 3.1 million."
Piques now posts longer-format videos on his Facebook page. He still collaborates regularly with his fellow viners, like Curtis Lepore.
Other major Vine stars, such as King Bach (16.2 million followers) and Logan Paul (9.4 million followers), have come closer to achieving mainstream celebrity.
Paul has guest-starred on TV shows such as Law & Order. Bach, a regular on The Mindy Project, is getting his own show on Fox. Both have also invested their efforts in Facebook and YouTube, where they have combined millions more followers than they ever did on Vine. Both took Vine out of their social media bios nearly a year ago.
"At the time when Vine was at its peak, I started promoting my YouTube account on Vine and Snapchat just to round myself out," Allicattt, a popular viner with 4.9 million followers, said Thursday night. She now directs most of her effort to a lip sync and short-form video app, Musical.ly, which she likes because she can livestream herself hanging out in her bedroom to her over 2 million followers. "It's a much better, direct way to engage with my fans."
The Vine stars Darius Benson, Wellington Boyce, Brennen Taylor and Liza Koshy have also all become verified Musers — slang for Musical.ly users.
"Vine created a really amazing community. All my best friends are from Vine," Gabbie Hanna, creator of The Gabbie Show on Vine, said Thursday. "All my best friends are viners I came up with. It did so much good for so many people. It created so many friendships, and we all still collaborate."
Hanna moved over to Instagram and YouTube last year, where she quickly racked up around 2 million followers on both.
"Musical.ly, Facebook, Shots, Instagram — it doesn't matter. I have millions of followers on every platform that comes out," Vine star DeStorm Power said Thursday. He racked up 6.1 million followers on Vine, but he, too, stopped posting exclusive content there last summer.
"I always tell people, platforms come and go but creators are forever. I don't care if YouTube or Facebook dies tomorrow. I'm not going away."