Alicia Keys' "Holy War" lyrics beg for love and spiritual rebirth in a society gone mad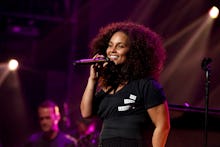 Back in 2001, when Alicia Keys first burst onto the scene, few would have likely been able to predict she'd be the one to drop the most woke political track of 2016. But here we are, in the midst of one of the most trying election cycles in history, with Keys ready to wage a "Holy War" to get our society to face its most uncomfortable internal contradictions.
"If war is holy, and sex is obscene," Keys sings in the opening lines of her new acoustic ballad, "We've got it twisted in this lucid dream."
The song, which dropped Friday, only gets deeper and darker from there. It offers yet another stunning look at the creative breadth Keys is looking represent on her coming album Here.
"Holy War" makes a haunting call for a spiritual awakening, amidst a chaotic backdrop. Keys makes a mind-numbingly simple ask for love and understanding.
"Maybe we should love somebody," Keys sings over the song's hollow acoustic melody, "Instead of polishing the bombs of holy war." 
By the time the second verse comes around, Keys flips the song's initial sardonic dichotomy to create a more genial picture of reality:
What if sex was holy and war was obscene
It's the golden rule wrapped in sultry R&B and sung to perfection.
It's like the most confrontational track Keys has ever released. It follows a string of similarly politically incisive moves, including her refugee-focused Let Me In video and her appearance in Mic's "23 Ways" video, detailing all the ways you can be killed for being black in America. 
Keys previously premiered "Holy War" live at her 13th annual Keep A Child Alive Black Ball in New York City, during which she raised $2 million for AIDS relief. There she paired it with an even clearer, actionable request for how people moved by her vision of a new world can take the first steps towards making it real. 
"Vote for love," she said. "Because orange is not the new black."