Sierra Bush, gender-nonconforming student in Idaho, found dead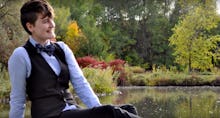 The body of Sierra Bush, who also went by the name Simon by many on campus, was found in Boise County, Idaho, on Saturday, KTVB reported Wednesday. 
Bush was last seen at home in Boise on Sept. 24. The Boise County coroner and police are investigating the cause of death. 
"Sierra's disappearance has been suspicious from the beginning and this is a tragic discovery for everyone who knows her," said Boise Police Sgt. Justin Kendall in a statement. "Every missing person's case is initially investigated as being suspicious and Sierra was not the type to disappear without telling anyone. For weeks, our detectives have been following up on leads and our investigation is ongoing."
Bush's family emphasized in a statement that she was a great student who was involved with her campus culture. 
"When her mother last spoke to her Sierra was happy and in good spirits, there was not the slightest sign of any trouble whatsoever," the statement said, KTVB reported. "Sierra was very talented individual and had so much to offer the world in her future years." 
A GoFundMe has been created in memory of Bush. Ryan Benson, the creator of the fundraiser, did not immediately respond to a request for comment. 
The Boise State University Gender Equity Center released a statement that confirmed Sierra went by Simon on campus. 
According to the Idaho Statesman, around 250 people attended a vigil for Bush Wednesday evening. Samantha McGraw, one of Bush's friends, said sometimes Bush was feminine and at others, masculine.
"They, them, she, her, he, him ... It didn't matter," McGraw told the crowd. "She was all about embracing who you really are."
The newspaper posted video of the vigil on its YouTube account.
"If I can be as weird as I am, you can be as 'you' as you are," Evan O'Beine, quoting Bush, told the Statesman.