Hillary Clinton will campaign in Arizona less than a week before Election Day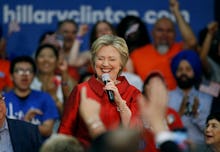 Hillary Clinton is heading to Arizona on Wednesday, making a last-minute run in a state that hasn't voted for a Democrat in 20 years. 
The Clinton campaign announced the trip on Friday as part of a swing that includes trips by Clinton to Florida, Ohio and North Carolina in the final week of the campaign.
Arizona has been reliably Republican for decades, having voted for just one Democrat since 1952. President Bill Clinton was the last to turn the state blue in his 1996 reelection bid. 
The fact that Clinton is spending one of the final days of the campaign in Arizona is an indication of the state's shifting political landscape. A growing Hispanic demographic coupled with Donald Trump's anti-immigration stance has led the Clinton campaign to consider Arizona up for grabs. 
Clinton spokesman Brian Fallon tweeted the rationale for the visit shortly after the announcement:
Clinton holds a slim 1.5-point margin in the RealClearPolitics average of Arizona polls, having trailed Trump for most of the summer. FiveThirtyEight gives Clinton a 49% chance of capturing the state on Election Day.
The decision to send Clinton to Arizona follows several visits by campaign surrogates and a recent decision to pour $2 million into advertising in the state. First lady Michelle Obama and Sen. Bernie Sanders have both appeared in Arizona in recent weeks to rally supporters.
The campaign also announced a slew of surrogate appearances, flooding the zone in the last full week before the election. President Barack Obama will make three appearances on Clinton's behalf next week, in Ohio on Tuesday, North Carolina on Wednesday and Florida on Thursday. Vice President Joe Biden will campaign in North Carolina on Tuesday and Florida on Wednesday.
Mic has ongoing presidential coverage. Please follow our main election hub as well as coverage of Donald Trump and Hillary Clinton.