FBI investigating new evidence tied to Hillary Clinton email case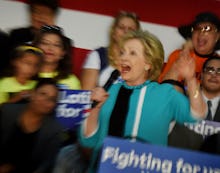 11 days before the election, FBI Director James Comey says he's reviewing new evidence related to the long-brewing controversy over Hillary Clinton's emails.
"In connection with an unrelated case, the FBI has learned of the existence of emails that appear to be pertinent to the investigation," Comey wrote in a Friday letter to members of Congress.
Comey previously closed the investigation into a server the Clintons kept at their Westchester County, New York, home during her tenure as secretary of state.
In July, Comey said that while Clinton's handling of sensitive information via the private server had been "extremely careless," he found no Department of Justice charges appropriate.
On Friday, he wrote it wasn't immediately clear what impact, if any, newly discovered materials would have on the case.
"Although the FBI cannot yet assess whether or not this material may be significant, and I cannot predict how long it will take us to complete this additional work, I believe it is important to update your Committees about our efforts in light of my previous testimony," Comey wrote.
Clinton has faced repeated questions about the server and her emails, both via attacks from rival Donald Trump's campaign and through a barrage of WikiLeaks drops of communications from Clinton and her inner circle.
The timing of the renewed investigation couldn't be worse: Less than two weeks remain before the historic Clinton-Trump battle concludes.
Trump jubilantly jumped on the news at the top of a campaign rally in Manchester, New Hampshire, saying he was "proud" the FBI was re-examining Clinton's emails and calling her family's corruption "worse than Watergate."
His fans broke into chants of "Lock Her Up!"
"Stocks turned negative after the report of the new probe. Many analysts have said that markets were pricing in a Clinton victory in November," CNBC reported.
Clinton is currently up between 4 and 6 percentage points on average in national polls, per RealClearPolitics.
Friday afternoon, her campaign rolled out a slew of new campaign appearances on her behalf by President Barack Obama and Vice President Joe Biden, among others.
Team Clinton had no immediate comment on the FBI.
2:02 p.m.: This story has been updated.