Kid Cudi threatens Drake after "Two Birds One Stone" dis: "Say it to [my] face, pussy"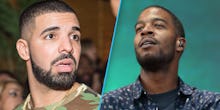 The battle between rap's two most sensitive rappers is officially on. 
Almost a full week after Drake took shots at Kid Cudi's mental health on Sunday's "Two Birds One Stone," seemingly characterizing the rapper's admission he was entering rehab to treat his depression as another "one of [his] phases," Cudi has responded in a tweet, coming for the Toronto emcee.
"Say it to [my] face, pussy," Cudi tweeted. "You think it's a game. I wanna see you say it to my face. I'll be out soon. Promise."
This winter is about to get very interesting.
Drake's "Two Birds One Stone" dis seemed to be a response to a prior Twitter rant of Cudi's, in which he called out Drake and Kanye West for talking about themselves as "top 5" while "having 30 people write songs for them." 
West handled the critique magnanimously, calling the rapper "the most influential artist of the past 10 years" at a tour stop, and at another asking fans to sing Cudi's part on "Father Stretch My Hands, Part 1" loud enough "so he can hear it."
Drake, on the other hand, had only venom. The lines in question:
You were the man on the moon
Many fans considered it a low blow, kicking Cudi while he was down. But Cudi's clearly not down, and he's not going to let Drake's slight pass by unanswered.
The man on the moon also showed some love to all the fans who have sent love and support since his checking into rehab with a second tweet Friday. He reiterated his recent promise that he would be out in time to perform at ComplexCon on Nov. 5. 
We'll have to wait to see what choice words Cudi has in store for Toronto's Cheesecake Factory impresario when the artist takes the stage in Long Beach, CA. Fans and Twitter are already gleefully imagining the revenge scenarios and getting their popcorn ready.