How the Hillary Clinton FBI investigation could affect the 2016 election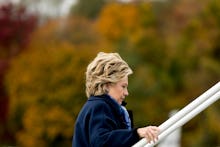 FBI Director James Comey's announcement that the FBI is looking into new emails related to Hillary Clinton's private server are rocking the presidential contest with 11 days to go before Election Day.
Prior to Comey's announcement, Clinton led Donald Trump in almost every national poll, as well as in key swing states needed to secure the 270 Electoral College votes to win the White House.
Yet Comey's surprise announcement — which provided little detail on the focus of the new review, or when it will wrap up — now has many wondering whether this October surprise could shake up the race and create a path for a Trump victory.
"I don't think the fundamentals have changed," Stu Rothenberg, a non-partisan political analyst and Washington Post columnist, said. "But it certainly is an element of unknown that has been thrown into this race at the last minute."
Rothenberg said he thinks this could "squeezes a few points" from Clinton's lead, but it's unlikely that it will lead to a Trump victory.
"I always go back to the fundamentals, and where is Trump going to outperform Hillary," Rothenberg said. "Is it among 18- to 29-year-olds? Hard to imagine. Is it among affluent, college-educated whites? Hard to imagine. Is it among Latinos? Hard to imagine. Is it among African-Americans? Yes, instead of getting 6% he'll get 8%. Is it among women? No. I don't see how the math, when you add things up, gets him to a victory."
Rothenberg said, however, that the announcement could have a positive impact on down-ballot Republicans, who would benefit from higher Republican turnout or a message from reluctant Clinton voters that a GOP Congress would be a "check" on a Clinton presidency.
"It may give people like [Sens.] Kelly Ayotte and Pat Toomey and Richard Burr and Roy Blunt the opportunity to reiterate their concerns and say, 'Don't give Hillary a blank check,'" Rothenberg said. "I always thought that message would be very effective, but it would make it that much more effective, so it could help save a couple Republicans down ballot."
Other analysts agree.
"It's hard to believe this will persuade voters to switch from Clinton to Trump," said Nathan Gonzales, a non-partisan political handicapper and Roll Call columnist. "But if it energizes Republicans and causes some of them to get behind Trump, that will narrow the presidential race and give down ballot Republicans a fighting chance."
But it's also early — and reporting from NBC's justice correspondent Pete Williams suggests the review may not prove as damaging for Clinton as many believe.
In a 2016 election with as many twists, turns and surprises as there have been so far, it's possible there are more surprises that could come for Trump, as well.
In politics, 11 days is a lifetime.