Will Hillary Clinton face charges? What the FBI Clinton email review really means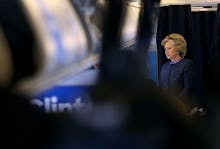 Friday afternoon saw the release of explosive news that Hillary Clinton will again face scrutiny from the FBI related to her emails as secretary of state.
"In connection with an unrelated case, the FBI has learned of the existence of emails that appear to be pertinent to the investigation," FBI director James Comey wrote in a Friday letter to Congress. Following the news, speculation about what it would mean for Clinton began in earnest. 
At this point, the main detriment to predicting what will happen next: We know too little. While many immediately speculated about the negative political impact this announcement could have on Clinton, varying bits of information flowed out Friday afternoon. 
NBC News reported Comey sent the letter to members of Congress "out of an abundance of caution." 
In July, Comey said he would not recommend charges against Clinton. 
The main question in the yearlong FBI investigation into Clinton's emails: Did Clinton mishandle classified information by putting it on an unsecured, private email server? While the FBI did find 110 emails that contained classified information, Comey determined Clinton and her aides were "extremely careless" but not breaking the law in sending this information outside of secure government channels. 
It is unclear if anything about Friday's news would change the FBI's July evaluation of "no charges" based on the evidence presented then. Pete Williams of NBC reported the new emails came from a device not owned by Clinton. Associated Press reporter Josh Lederman cited a source saying the new emails were not from the private email server.  
As the afternoon went on, the news became even stranger. The New York Times reported the emails were uncovered during an investigation into Anthony Weiner's sexting. When the FBI seized the devices of Weiner and Huma Abedin, Weiner's estranged wife and a longtime Clinton adviser, they found emails relevant to the Clinton server investigation, the Times reported. The FBI is trying to determine whether the new emails had any classified information or other relevance to the Clinton investigation.