Hillary Clinton, emails and FBI investigation: Here's what you need to know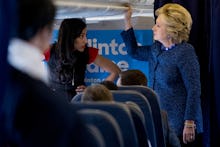 FBI Director James Comey informed members of Congress on Friday that he is investigating a batch of emails uncovered while investigating former Rep. Anthony Weiner for his latest sexting scandal.
"In connection with an unrelated case, the FBI has learned of the existence of emails that appear to be pertinent to the investigation," Comey wrote in a letter to Congress.
It was initially unclear whether the emails were part of a previous investigation into Democratic candidate Hillary Clinton's use of a private server while serving as secretary of state.   
The New York Times reported that the emails were from electronic devices seized from Clinton's top campaign aide Huma Abedin, who is married to Weiner. It's unclear how many emails they are and what they contain.
The Associated Press reported that the emails did not come from Clinton's private server.
Here's what you need to know about this late-breaking news just 11 days before the presidential election.
Why was Clinton under investigation?
The FBI reviewed 30,000 emails that were handed over by Clinton's legal team to determine if they contained classified information from her tenure at the State Department. Investigators found "110 emails in 52 email chains have been determined by the owning agency have been determined to contain classified information."
Of the 52 email chains, eight contained top secret information, 36 contained secret information, and another eight contained confidential information. And another 2,000 emails were "up-classified" after they were sent.
The FBI closed the investigation into Clinton in July
Back in July, Comey called Clinton's conduct "extremely careless," but said the Justice Department would not be filing any charges against her and the case was closed.
The investigation into Anthony Weiner
The former New York congressman resigned in disgrace in 2011 over a sexting scandal. Then two years later, he was caught in another sexting scandal. And earlier this year, another sexting scandal emerged, but this time it included racy pictures with his young son and allegations that he was sexting to a 15-year-old girl.
The FBI launched an investigation. Weiner and Abedin are now separated. 
Clinton campaign responds
Clinton appeared at a rally in Iowa on Friday just as the news broke. She did not mention the latest investigation. But shortly after, Clinton campaign manager James Podesta, who has been the target of thousands of emails leaked by Wikileaks, issued a statement accusing the FBI of being vague and urging Comey to issue more information about exactly what they're investigation.
"It is extraordinary that we would see something like this just 11 days out from a presidential election," Podesta said.
Trump has been relentless in his attacks on Clinton over the scandal
During his entire campaign, Trump has hit Clinton hard over the investigation into her use of email.
And on Friday, he didn't hold back as he opened a rally in New Hampshire with the news of this latest development. He told the crowd that this is "bigger than Watergate."
Oct. 28, 2016, 4:25 p.m.: This article has been updated.
Mic has ongoing presidential coverage. Please follow our main election hub as well as coverage of Donald Trump and Hillary Clinton.