At the Standing Rock reservation, young activists have been at the forefront of protests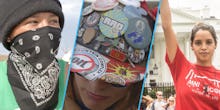 Cannon Ball, North Dakota — Protesters on the Standing Rock Sioux reservation weren't looking for a fight on Thursday.
"All we had was our bodies and our prayers, and they come in with their AR-15s and their tanks, saying they're going to push us all the way to the reservation," Nick Wagner, who was hit in the face with a rubber bullet, said in an interview.
Hundreds of demonstrators remained at an encampment near the site of Sioux burial grounds and in the path of the pipeline on Thursday, despite warnings from police to clear the area. Many held their ground as officers with assault rifles and tanks arrived just after noon. In a standoff that lasted for hours, police used pepper spray, shot by beanbag rounds and arrested more than 140 people by the end of the day.
For months, the movement at Standing Rock against Energy Transfer Partners' $3.8 billion Dakota Access Pipeline has effectively stalled a project that crosses Sioux treaty land and would threaten the water supply for the tribe and the entire region. Events at Standing Rock are significant beyond the outcome of the pipeline. Tens of thousands have united in the largest Native gathering in over a century, and young people, especially from the local Standing Rock Reservation, have been leaders of the movement since the beginning.
Thursday's arrests were far from the first since the protests began — there have been at least 411 since Aug. 10 — and the degree of force has attracted the attention of human rights groups. In one instance in early August, Aaliyah, a 14-year-old Oglala teen, and nine others were arrested for walking onto a construction site. Aaliyah was held in a juvenile detention center in Fort Yates, North Dakota, for two weeks, she said in an interview. Her charges were later dropped.
Tarah Demant, a lawyer for Amnesty International monitoring conditions for demonstrators at Standing Rock, said arrests are being used as "a way to intimidate and displace protesters." 
However, the use of force has only generated more support for the protests by celebrities and other activists. Videos of the arrests sparked a deluge of online attention, and soon waves of supporters, many people from other Native tribes, flooded the camps at Standing Rock.
But even before the camps, young people at Standing Rock were fighting the pipeline in a way that calls back to native history. 
On July 15, a few dozen Oceti Sakowin teenagers, of the Sioux tribe, laced up their sneakers to begin a 2,000-mile relay run to Washington D.C., where they hoped to deliver a petition calling on the Army Corps of Engineers to stop the pipeline. The relay revives a Lakota tradition in which the tribe would communicate with other regions by sending runners to deliver information.
Bobbi Jean Three-legs, 24, a founder of the Rezpect Our Water campaign who helped organize the run to D.C., had already led runs around Standing Rock and to other reservations to build support for efforts to block the pipeline. As the Oceti Sakowin runners traveled east, thousands of others showed up in varying demonstrations of support. Some joined the runners, others followed in cars with food and water, or offered to be hosts for a night. Many more encountered the runners on social media. Currently, the petition has more than 350,000 signatures.
The movement gained so much visibility that when the runners arrived in D.C. in early August they were granted a meeting with officials from the Department of Interior, who subsequently called on the Army Corps of Engineers, to provide a full Environmental Impact Statement for the project, as the initial assessment had failed to address the pipeline's impact on Standing Rock. 
The Army Corps ignored the request, but the fight at Standing Rock was just beginning.
"When we got back [to Standing Rock] in August, there were just lines of cars pulling into the camp every day," said Macaulay Brown, who helped organize the run. "Sacred Stone overflowed and we just sat there watching the other camp grow from one teepee."
Aaliyah was one of the Oceti Sakowin runners, and before the relay she'd never left North Dakota. She'd hardly spent time off the reservation, where life often skews toward bleakness. More than 40% of people live in poverty at Standing Rock, which has five times the poverty rate of nearby Bismarck. On reservations across the country, a third of women are sexually assaulted. 
For Aaliyah, the problems that sometimes typify reservation life were her only reality before the growing movement at Standing Rock. Her parents lost custody several years ago, and although they occasionally showed up, Aaliyah was taken care of by other relatives and friends, most often by a blind aunt.
Three-legs and other organizers understood the problems for young people on reservations better than anyone. They also understood that their culture, especially their heritage as protectors of the earth, offered an alternative and a potential solution.
"A lot of the kids don't have a solid base at home, and at the same time a lot of our cultural identity has been lost," Brown said. "A lot is missing, and we've seen how the run and then our camp at Standing Rock is bringing back our tradition — bringing back our pride."
When Aaliyah joined Rezpect for Water, she began to imagine a future outside of the cycle of poverty and abuse she was born into — a future in which she could be a hero instead of a victim.
"It makes me think more about what I want to do when I get older," she said. "There's people everywhere who need help."