Restaurateur Thomas Keller sued $5M for discrimination against pregnant server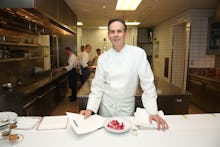 Discrimination and fine food don't pair well together.
Thomas Keller, the Napa Valley restaurant The French Laundry and the restaurant group itself are all being sued by former server Vanessa Scott-Allen, who claims that the restaurant group and its owner mistreated her because she was pregnant. 
After five years of working at Per Se, Keller's New York sibling to the French Laundry, Scott-Allen wanted to move to sunny California. According to the lawsuit, first reported by the Napa Valley Register, she visited Yountville, where The French Laundry is located, in January 2016. Scott-Allen met with The French Laundry's general manager, Michael Minnillo, a defendant in the suit, who allegedly agreed to transfer her from the New York restaurant to The French Laundry. This all happened the same month the New York Times' Pete Wells panned Per Se for serving food that tasted like "bong water" — a rough month for Keller, no doubt.
Once Scott-Allen got the go-ahead for the transfer, she immediately told her boss, Antonio Begonja, general manager of Per Se, of the potential transfer.
Both managers accepted the transfer and the details of the move began, and Scott-Allen also announced that she was pregnant. Since 1978, when the Title IX act was amended to include the Pregnancy Discrimination Act, it has been illegal for an employer to refuse to hire or make a hiring decision based on a woman's pregnancy, marital status, medical condition or childbirth history. 
While it's not technically illegal to ask a woman if she is or plans to become pregnant, it can easily be argued that even if she is forthcoming with this information, the details about a woman's personal childrearing decisions were used in evaluating her qualifications for a job. For this reason, many pregnant job-seekers struggle between being honest with their future employers or staying quiet on what the next few months hold. 
Scott-Allen's honesty may have cost her a job. 
Though she was slated to start working at The French Laundry on April 1, Scott-Allen was informed in March that she needed to sign an official resignation document. According to the lawsuit, Keller knew about Scott-Allen's resignation from Per Se and congratulated her on the new position at The French Laundry. 
The Napa Valley Register reports Scott-Allen's last day at Per Se was March 10 and the restaurant's daily bulletin featured a picture of her and Keller hugging with the message, "Thank you Vanessa! May your warmth, grace and impact shine just as brightly at TFL as it has here."
On Scott-Allen's scheduled start date in April, the suit states that in her hiring managers absence, another manager, Olivia Wallace, asked Scott-Allen about her pregnancy and maternity leave. 
Receiving no training schedule on that first day, Scott-Allen was soon informed that the position wasn't available and no positions were open at the restaurant, though the suit states there were three open positions at the time. 
After filing a complaint with the California Department of Fair Employment and Housing, Scott-Allen and her attorneys are suing for $5 million in damages that include "fraud and deceit, sex discrimination, violation of pregnancy disability leave law, negligent misrepresentation, breach of implied contract, wrongful termination and failure to prevent discrimination, as well as violations of labor codes and the California Family Rights Act" as well as attorneys fees and the cost of the suit, according to the lawsuit filed on September 26. 
This isn't Keller's first time facing a work-related lawsuit: In 2015, the restaurateur and chef settled with Per Se employees for $500,000 in a suit that alleged he had withheld the 20% service charge, i.e. the tips, added to diners bills, Business Insider reported. The French Laundry also took a hard financial hit in December 2015, when thieves stole $300,000 worth of luxury wine from the restaurant, though detectives recovered many of the bottles the following month, according to the Napa Valley Register.
Mic has reached out to the Thomas Keller Restaurant Group for comment.