Inside the secret meeting that changed the fate of Vine forever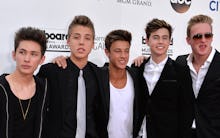 Last fall, nearly 20 of Vine's top 50 creators gathered in a conference room at 1600 Vine Street in Los Angeles to stage an intervention.
They were there to meet with Karyn Spencer, Vine's Creative Development Lead, and other representatives from Vine in a last-ditch effort to save an app they saw was failing fast.
Marcus Johns, with 6.1 million followers, and Piques, a Vine star with more than 3.1 million followers, helped organize the meeting. They and their peers had noticed a sharp dropoff in engagement on the app. Johns and Piques owed their fame to the platform, and they were desperate to turn it around.
The stars had a proposal: If Vine would pay all 18 of them $1.2 million each, roll out several product changes and open up a more direct line of communication, everyone in the room would agree to produce 12 pieces of monthly original content for the app, or three vines per week.
If Vine agreed, they could theoretically generate billions of views and boost engagement on a starving app. If they said no, all the top stars on the platform would walk.
Signs of trouble
By the time the meeting took place, most of the top Vine stars had already begun to shift their efforts to other social platforms.
Influential viners like King Bach and Logan Paul had removed direct mentions of Vine from their social media bios, and many others were posting vines that encouraged followers to subscribe to their channels on YouTube or Facebook. 
"We all started to notice our numbers became less and less, while Instagram was growing," Amanda Cerny, an actress and content creator with 4.7 million followers on Vine, said by phone. "We all started posting [on Instagram] more."
"Vine was not ever very engaged with its creators," sWooZie, a YouTube star who gained popularity on Vine, also said in a phone call.
"I like YouTube because YouTube is very in touch with creators," sWooZie said. "They do little things, like, 'Here's a $1,000 gift card for some camera equipment.' Without personalities on your platform, all you have is cat videos and random things people send to each other. It's junk, and people will leave."
Marcus Johns, Jerry Purpdrank, Christian Delgrosso, Curtis Lepore, Alx James, and DeStorm Power, all elite viners who were at 2015's meeting, had noticed people leaving the app in droves. They discussed it heavily on group chat.
"All the top viners communicate about trends," Cerny said. "We talk about good times to post, what's doing well, what we're seeing — and we saw the app was declining."
Vine's biggest issues
In order to turn things around, the viners suggested several product changes that they thought would make the experience better for users at all levels.
One ask was for Vine to deal with harassment. Several viners said the community had taken a negative turn and their comments had turned into buckets of abuse.
Abuse is something that Vine's parent company, Twitter, has been heavily criticized for not addressing. Several viners said abuse played a part in their decision to leave.  
"People on Vine would bash people for no reason," Piques said in a phone call. "We wanted comment filters so we could block words like the F-word from our comments. Vine eventually rolled out some types of filters, but the broad consensus was that it was too little too late."
The Vine stars also begged for things like the ability to add links to Vine captions, a better recommendation page and a more functional suite of editing tools.
"We told them how critical it was to implement these things right away," said Piques. "They never made changes, or when they did it was too late."
Most of the viners assumed that the product changes would be easy for a theoretically nimble tech company to roll out, and they were frustrated by the app's slow and sporadic updates.
Then there was the issue of money.
Around the time of the meeting, Vine threw what some considered to be a lavish party on a rooftop in L.A. to celebrate King Bach being crowned Top Viner, with more than 16 million followers and over 6 billion loops. (Bach, who is unofficially known as the "King of Vine," received virtually unanimous praise from everyone interviewed for this story.) Vine invited all of its elite creators to the party, and liquor flowed until the early morning.
Everyone had a great time that night, but in the group chat the next day, things turned bitter. They wondered why, if Vine had so much money to spend on a party with free swag, it couldn't support its top users more directly. 
A last-ditch effort
Marcus Johns, the first person to reach 1 million followers on Vine, drafted up a contract. He got 17 other viners (most of whom lived at 1600 Vine Street, an apartment building known as a type of "viner frat house") to agree to participate in the pitch.
They presented it to Vine, and the company seemed tentatively receptive. Representatives told the viners they would take the contract back to Twitter and loop back with them. BuzzFeed later reported on the meeting and said Twitter had at least considered payment. 
After word spread in the Vine community about the contract, a few other names were added to the roster, bringing the total up to 21 viners seeking compensation or threatening to walk.
However, after an hour of discussion during that last meeting at 1600 Vine Street, it was clear the deal was not going to go through.
"At that point, we knew Vine was dead," said one viner at the meeting.
"I remember saying, 'This app will die. We're the ones driving the views,'" said Alx James.  
Nearly every major viner stopped posting original content to Vine or drastically reduced their efforts on the platform after the group proposal was rejected.
Creators like King Bach and DeStorm Power grew their audiences on YouTube, while others like Amanda Cerny and Gabbie Hanna focused on Instagram and Snapchat.
Vine's growth stagnated before it finally shut down a year later. 
"We were driving billions of views — billions — before we left," Vine star DeStorm Power said Thursday. "The word Vine became shorthand for short sketch-comedy videos. We did that. Vine didn't do that. We changed culture by making videos on this six-second app."
"It's sad the way it went down, but nobody is upset, bitter or angry. Everyone moved on to other platforms," he added.
"I feel bad," viner Gabbie Hanna said in a phone call Thursday. "It took years for YouTube to offer monetization and add features. Vine just needed a minute."
Ultimately, however, most Vine stars have no regrets.
"At the end of the day, I have 2.5 million YouTube followers because of Vine, I have 2 million Instagram followers because of Vine and I'm making all my money and getting auditions because of Vine. So for me to sit here and say 'fuck Vine,' I just can't," said Hanna, adding that these days she spends most of her time on YouTube and Instagram.
"There ain't a Vine star out there who isn't a millionaire," said Vine star Alx James by phone. "We'll be fine, but it's sad the way things worked out."