Nate Parker allegedly exposed himself to a student trainer, according to new report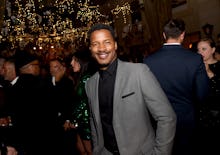 Nate Parker — breakout star as the writer, director and actor of Nat Turner biopic The Birth of a Nation — is back in the hot seat over new sexual assault allegations.
According to a New York Times investigation, a female student trainer accused Parker of exposing himself to her while he was on the wrestling team at Penn State in 2000.
Interviews and documents reviewed by the 'New York Times,' including court records, indicate that Penn State officials appear to have been lenient at times with Mr. Parker. Suspended from the wrestling team when he was criminally charged with rape, he was reinstated in the fall of 2000 while still facing trial. Within weeks, a female student trainer complained that he had exposed himself to her. But after she decided not to go to the police, despite the urging of the university, Penn State appears to have dropped the matter.
This latest allegation surfaced as a byproduct of an investigation by the state attorney general's office into the school's former assistant football coach Jerry Sandusky. Sandusky was convicted in 2012 for the sexual abuse of 10 young boys; now, former Penn State officials are being investigated for failing to report the abuse.
Parker was accused in 1999 of raping an unconscious first-year student, aided by his friend and Birth of a Nation co-writer Jean McGianni Celestin. The pair "later harassed, intimidated and stalked [the woman] after she pressed charges," the New York Times reported in August. 
Parker was acquitted of sexual assault, while Celestin was convicted, though he later won an appeal on account of the alleged survivor's inability to testify a second time. The story took an even darker tone in 2012, when the woman committed suicide.
The latest allegations against Parker add to the deep conflict many feel about whether to see Birth of a Nation, which had originally been touted as a shoo-in for an Oscar nomination.