FBI's review of Clinton email evidence reportedly tied to Anthony Weiner sexting case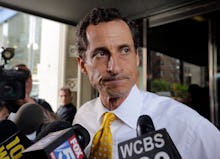 The FBI's new review of emails pertaining to Hillary Clinton's server were found on electronic devices seized from her top campaign aide Huma Abedin and Abedin's husband, Anthony Weiner, the New York Times reported Friday.
Earlier this summer, Weiner, the disgraced former member of Congress, was caught sending sexually explicit messages to an underage girl, leading to a review by the FBI and the New York Police Department.
According to the Times, the FBI is now going to look into whether the emails found "contain classified information, as well as to assess their importance to [the] investigation."
Since the FBI announced its review of the emails, the Associated Press has reported that the emails did not come from Clinton's private server, which has dogged her presidential campaign.
NBC News' Pete Williams added that it's unlikely the new review will have an impact legally on Clinton, but could cause political damage in the final days of the presidential race.
It's not clear that the new revelations will derail Clinton's bid, but they could tighten the race in the final days.