Swing states list 2016: How early voting stacks up in these key battleground states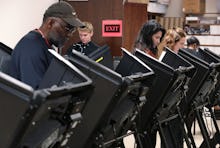 Early voting isn't a foolproof way to predict the outcome of an election — but it's certainly having an effect in several swing states less than two weeks ahead of the election.
Early voting numbers indicate that key states such as Florida, Nevada, Arizona and Colorado are leaning toward Democratic candidate Hillary Clinton, according to CNN. And in Iowa and North Carolina, early voting shows solid support for Republican candidate Donald Trump.
CNN partnered with Catalist to analyze early votes cast by more than 12.6 million people across 37 states. Here's what they found: 
In Arizona, early votes lean Republican right now, but by a far slimmer margin than in 2012. In Iowa, the same is true for Democrats. They're holding a lead there but it's smaller than at this point four years ago.
Democrats are leading in early voting in Colorado. Just this week 24,000 voters picked Clinton, up from 10,000 the week before.
Early voting began Monday in Florida and it's heading in Clinton's favor. "Now that in-person early voting is underway, the GOP advantage has been slashed by about two-thirds," CNN reported.
In Nevada, early votes for Democrats lead Republicans by 11.3 percentage points. In North Carolina, early votes also show Democrats ahead by 18.4 percentage points.
And early voting is down in Ohio, which could be bad news for Clinton.
But experts caution to take these early results with a grain of salt.
"Part of the problem is that the party breakdowns in early voting statistics derive from party registration figures, which can be unreliable, FiveThirtyEight's Seth Masket wrote. "Party registration, moreover, doesn't always correspond with how a person votes."
Still, early voting can be a good indicator of voter turnout. With early voting up in several states, it's also an indication that many voters are already decided and don't need to wait until Nov. 8 to cast their vote.
With just 11 days to go, neither candidate is taking voter turnout for granted in this historic election.
Mic has ongoing presidential coverage. Please follow our main election hub as well as coverage of Donald Trump and Hillary Clinton.