Supreme Court will hear Gavin Grimm case on transgender bathroom rights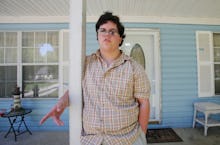 The United States Supreme Court will hear the case of 17-year-old Virginia student Gavin Grimm, who is suing the Gloucester County School Board for the rights to use the bathroom that matches his gender identity. Grimm is a transgender man. 
Grimm previously won his case in a federal court, but the Supreme Court issued an injunction, saying it would decide whether to hear the case. 
In an earlier interview with Mic, Joshua Block, a senior staff attorney at the American Civil Liberties Union, who represents Grimm, said that he had wished for the opposite outcome.
"Not taking the case is the goal — the court should stay away from it," Block said. "There's no need for the court to get involved. We absolutely want the court to deny [certiorari] and he can start using the restroom in peace."
In a press release, Gavin Grimm said he "never thought" his restroom use would turn into a national debate. 
"The only thing I ever asked for was the right to be treated like everyone else," Grimm said. "While I'm disappointed that I will have to spend my final school year being singled out and treated differently from every other guy, I will do everything I can to make sure that other transgender students don't have to go through the same experience."
The ACLU said the basis of its claim is that the Gloucester County School Board's policy violates the federal statute Title IX, which bars sex discrimination in schools receiving federal funding. 
"It is disappointing that Gavin will probably have to finish out his high school career under this harmful, humiliating policy," Block said in the press release. "These sorts of discriminatory policies stigmatize and isolate transgender students like Gavin just because of who they are. We look forward to presenting Gavin's case to the Supreme Court as the next step in the fight to ensure fairness and equality for trans people across the country."
The case will be heard on March 28, according to the ACLU. 
Oct. 28, 2016, 4:05 p.m. Eastern: This story has been updated.